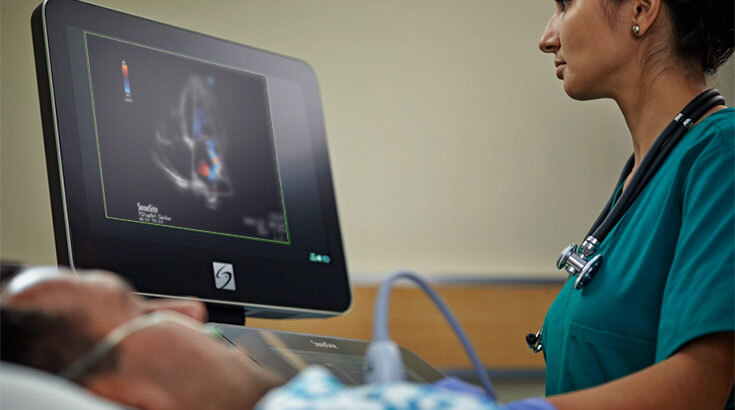 Cardiac Imaging & Cardiology Ultrasound
Every day, more cardiologists are making use of high-quality cardiac imaging with ultrasound at the point-of-care, enhancing their ability to diagnose and treat cardiac pathologies at the point-of-care without exposing patients to the radiation of X-ray or CAT scane procedures.
Our portable cardiology ultrasound machines can be used to image cardiac structures and identify issues such as pericardial effusion and cardiac tamponade.
Intuitive, accurate hemodynamic profiling offers clinical information, enabling you to more effectively diagnose and assist your patietns in cardiac disesase prevention and management. If you are seeking a better way to attract, treat and retain patients, SonoSite ultrasound systems for cardiac imaging can be an invaluable asset to your cardiac practice.
SonoSite Ultrasound Systems Provide:
Customized models for cardiac applications
Advanced cardiac imaging measurements and calculations, like IVC collapse, volume status, and CV pressure
Exceptional cardiac image quality with minimal key strokes required (switch between transducers with as few as two pushes of a button)
Fluid-resistant surfaces for simplified cleaning and disinfection
Under 25 seconds from cold start to live scanning and recording
Small physical footprint for crowded rooms
Built to exceed U.S. military specifications for durability
Industry leading 5-year warranty
Extensive training and education programs
Recommended Systems for Cardiac Imaging
The Edge II features an easy-to-use interface for intuitive access to frequently used functions like gain and a wide-angle display with an anti-reflection coating for minimal adjustments during viewing. The Edge II features DirectClear Technology on select transducers, elevating transducer performance by increasing penetration and contrast resolution. This contributes to an unsurpassed imaging experience for the bedside clinician. Learn more about the Edge II. 
When it's your job to administer a nerve block, assess internal bleeding, or perform a thoracentesis, you need technology that works right along with you. The SII has an intuitive user interface, familiar tactile controls, and dual transducer connectors. When time is of the essence, the SII is ready to perform the right exam at the right time with minimal set-up. Visit our SII product page.
X-Porte was developed from the ground up to incorporate a breakthrough, proprietary beam-forming technology: XDI (Extreme Definition Imaging). The result? Artifact clutter is substantially reduced while contrast resolution is significantly enhanced. The X-Porte even has instantly accessible reference onboard educational visual guides and step-by-step tutorials that allow the user to view videos while simultaneously performing live scans. See the machine in action here.
Learn More About Cardiac Imaging with Ultrasound
Ready to learn how more about Cardiac Echocardiology and how to use ultrasound to view the Parasternal Long Axis? Check out the video below.