January 03, 2020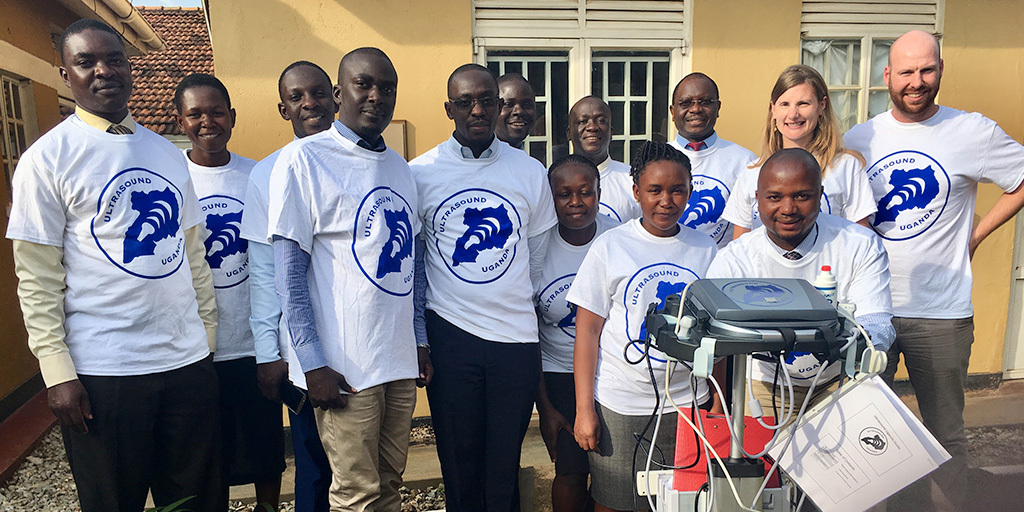 Emergency physician Jessica Schmidt, MD, MPH, assistant professor at the School of Medicine and Public Health at University of Wisconsin, Madison, recently returned from a very productive visit to Uganda. Physicians at the University of Wisconsin Madison have partnered with physicians at Mbale Regional Referral Hospital and the Mbale Clinical Research Institute (MCRI), along with Atlas International, an NGO dedicated to improving health for children in Eastern Africa. The project is focused on creating a training and research program in point-of-care ultrasound (POCUS) in Mbale, as Dr. Schmidt explains:
"We are emergency physicians partnering with pediatricians and providers specializing in research at Mbale Regional Referral Hospital. So, our goal was to train the local staff in the use of POCUS. We were awarded a seed grant from the Global Health Institute from the University of Wisconsin Madison to buy an ultrasound machine from Sonosite SoundCaring, and donate that machine to Mbale Hospital."
Dr. Schmidt worked closely with preeminent medical researcher Dr. Peter Olupot-Olupot, the director of the Mbale Clinical Research Institute. Dr. Olupot-Olupot is spearheading a project to leverage POCUS to evaluate children and gain a better understanding of childhood diseases such as sepsis, cerebral malaria, and tuberculosis. Dr. Schmidt described how Dr. Olupot-Olupot helped advance their POCUS project:
"Dr. Olupot-Oluput is a very accomplished researcher, and also a pediatrician. So when we came in with the idea of teaching POCUS, we wanted to combine that with research. Initially, we wanted to look at the cardiopulmonary pathophysiology of kids, to see what their hearts were doing. Dr. Oluput-Oluput just expanded this idea to such an incredible level, and turned one small research idea into six different research ideas, looking at how POCUS can be used with pediatric patients in a resource-low environment. You see, CT scans are not available, and the X-ray is not portable. POCUS is the only bedside diagnostic tool that is readily available."
In August, Dr. Schmidt's team trained 15 clinicians in ECHO, lung, and ocular ultrasound and have logged over 150 scans to date. The training program will continue throughout the year with residents, faculty, and fellows from the University of Wisconsin Madison visiting Mbale Regional Hospital for ongoing bedside training. Dr. Schmidt recalls one particularly brave patient whose life was helped by ultrasound:
"A kid who is about eight years old came in with rheumatic heart disease, which had not been previously diagnosed. He came in really fluid overloaded, so his lungs were filled with fluid. No one knew why he was working so hard to breathe. We were able to use POCUS to see that his heart was not squeezing well, to see it had B-lines or fluid in his lungs. Over the course of the week he was there, we were able to diuresis him, get the water back out. We used POCUS to watch his improvement, and see how his lungs were drying up and getting better. He was an amazing champion! He would lay still every day and let the doctors we were training examine him. He knew exactly what to do, and would pull his shirt up to get ready for the ultrasound. He was always wearing a Superman t-shirt!"
Dr. Schmidt was similarly impressed with her students' progress and the skill of the local clinicians she worked with.
"I've been blown away by the partners and the physicians we were teaching. They just ran with it, mastering POCUS so quickly. I also want to highlight our local champion on the ground, Dr. William Okiror. He was been a champion leading our pneumonia project. We couldn't do this important work without local leadership such as Dr. Okiror and Dr. Olupot-Olupot.

 

Our residents have found the mission a fantastic experience, and it has helped shaped their career trajectories. One resident plans to pursue a global health fellowship the year after, and plans to continue to work on this project."
More Stories of Sonosite in Uganda
POCUS Profile: Dr. Nathaniel Meuser-Herr
Letter from Uganda: Ultrasound Vital in OBGYN Care