July 18, 2019
Dr. Dvora Nelson is a general surgeon specializing in the treatment of varicose veins. She has gone on medical missions for the Hackett Hemwall Patterson Foundation since 2006. Dr. Nelson went to a remote mountain clinic in Olanchito, Honduras to treat patients with varicose veins with two portable M-Turbo ultrasound machines on loan from Sonosite.
Dr. Nelson understands all too well the seriousness of varicose veins, a potentially debilitating condition. She explains the complications that could occur if this condition is not attended to:
"Varicose veins can be very painful. Basically, blood is pooling in your legs instead of returning to the heart. The skin becomes darker, flakier, and itchy, and you can get bad cramps at night. Naturally, the patient feels a lot of fatigue. As it progresses, a vein clot is likely to develop, putting the patient at risk of a pulmonary embolism. To make matters worse, being sedentary increases the risk of a vein clot, but the varicose veins are making you less mobile."
Dr. Nelson immediately put the Sonosite M-Turbo to work. These handheld ultrasound machines allowed her team to identify which veins were abnormal and how blood flow was being misdirected. The very first time she used the devices, she identified three patients who had vein clots, so they were immediately sent to a hospital for treatment.
"We treated more patients than we ever had in our 50 years. Without ultrasound, we wouldn't be able to see the clots. They called me the 'Ultra Sonographer'! We really helped improved our patients' quality of life. We got to heal ulcers, and see patients we had treated in past years. I loved to see how their wounds had healed."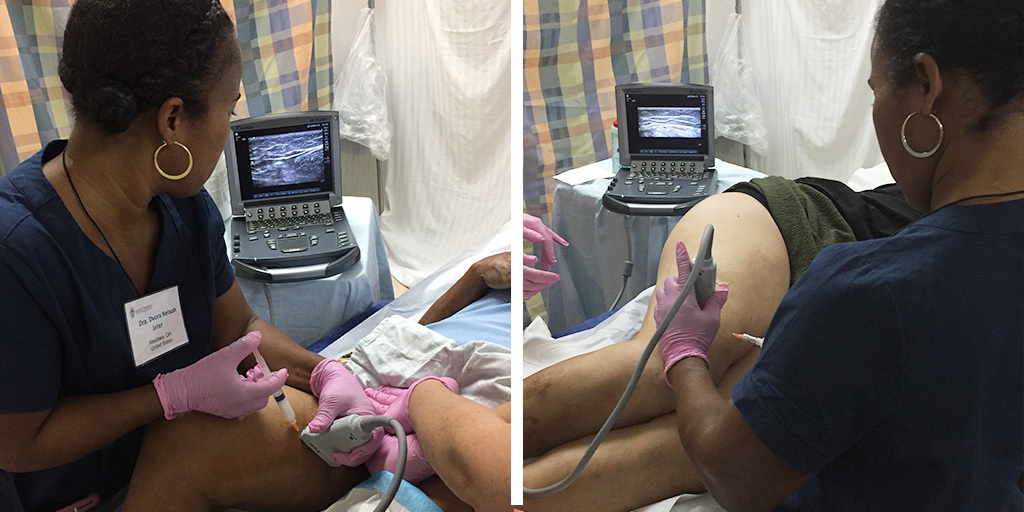 The mission's goal extended beyond treating patients in need. Dr. Nelson's team trained Honduran and American physicians on how to treat vein disease, with the intent of leaving the local doctors with a better understanding—and passion—for vein intervention.
Dr. Nelson was impressed with Sonosite's global outreach program.
"You guys supplied us with two machines at my location, not including the other cities our medical mission went to. Sonosite also gave us special backpacks, making it easy to transport these things. We also were supplied with two batteries, with each battery giving us six hours of function, which prepared us for frequent blackouts. Sonosite has really created a thoughtful and effective program."
Read More Inspiring Stories of Sonosite Portable Ultrasound Out in the Field
Ultrasound Guidance for Fistula Surgery in The Gambia
Sonosite Ultrasound Lends Help to Humanitarian Efforts in Mosul, Iraq