July 16, 2019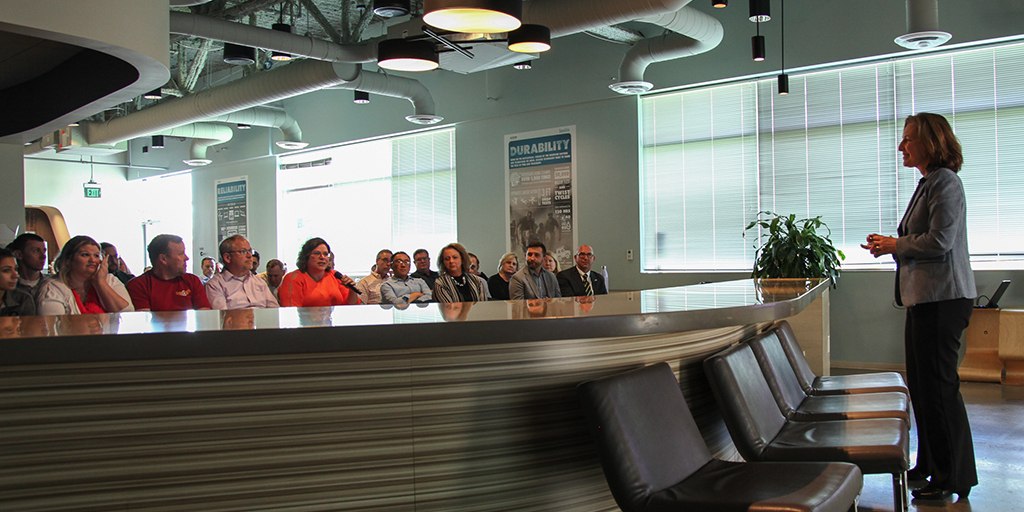 Fujifilm Sonosite was honored to host Congresswoman Kim Schrier, M.D., who represents Washington's 8th District, at our Bothell campus on July 8th. Congresswoman Schrier interacted with our point-of-care ultrasound products and held an extremely well-attended Town Hall meeting to take questions from our employees.
Congresswoman Schrier is currently the only woman physician serving in Congress. She received her medical degree from UC Davis and completed her residency at Lucile Packard Children's Hospital at Stanford. She joined Virginia Mason Medical Center in Issaquah, Washington in 2001, and was voted Best Pediatrician in the Greater Seattle Area by Parents Map magazine in 2013. While Congresswoman Schrier had no prior political experience, she was inspired to run for Congress by her desire to be a critical voice for healthcare policy improvements.
Before she took questions at the Town Hall, Congresswoman Schrier gave a brief talk outlining her background, policy priorities, and impressions of Congress. Congresswoman Schrier also expressed gratitude for Sonosite, a homegrown Washington company. "When I think I could use Sonosite for stomachaches in my patients, I'm thinking of the huge benefits of bedside ultrasound," she said.
Congresswoman Schrier loved her career in pediatrics, and she had not thought about entering politics until the 2016 election. She felt a diabetic pediatrician would be the perfect person to run for Congress in this political climate. "I saw threats against women and kids, the neglect of science, attacks on the Affordable Care Act (ACA), rising inequality, the cost of college," she explained. "I'm seeing how much being a doctor matters, from the measles outbreaks to targeting misinformation. It's important an actual doctor talks about healthcare policy."  
When asked about how healthcare costs could be reduced during the Town Hall, Congresswoman Schrier answered, "It doesn't matter who's paying the bill. The high cost is the foundational problem. What I hear is the biggest cost is pharmaceuticals. We could take 100 of the most used drugs and have them sold as generics. Another source of high costs is over-testing. For example, Sonosite devices could be used in place of an MRI and bloodwork. But lastly, we need to accept the minor inconveniences that other countries just accept. You might have to share a room, or your MRI can't be done on the very same day."
Fujifilm Sonosite would like to extend a special thanks to Congresswoman Schrier for visiting our campus and meeting with our employees to talk about critical healthcare policy initiatives.