February 03, 2021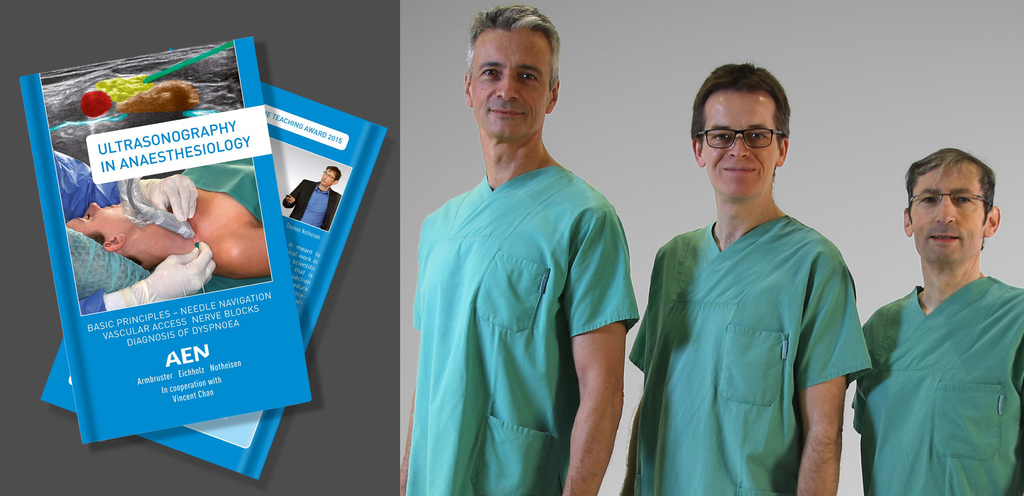 The leading German specialists for anaesthesia Dr. Wolf Armbruster, Dr. Rüdiger Eichholz and Dr. Thomas Notheisen are firmly convinced that continuous education and training in the field of point-of-care ultrasound (POCUS) is of crucial importance for building knowledge and expertise in this field. All three are regular users of POCUS in their daily routine and developed the AEN (Armbruster Eichholz Notheisen) training concept for ultrasound-guided regional anesthesia and for the use of ultrasound in emergency and intensive care medicine in order to support other physicians in further developing their ultrasound skills. Dr. Wolf Armbruster explains:
"It takes many years to learn and understand ultrasound techniques perfectly. Physicians must be able to orient themselves in the sonographic anatomy and be able to safely perform a sonographic examination or an ultrasound-guided intervention within a reasonable time frame. An extensive basic knowledge is to be learned and a lot of own practical experience is necessary to become a good diagnostician and interventionalist. Our goal is to share our passion for ultrasound procedures, to understand the technique through simple messages, and to make the training as easy and fun as possible."
During their regular four-day courses, which cover many ultrasound applications and provide a good balance of lectures and hands-on workshops, the three physicians mostly use Sonosite POCUS systems. These are extremely mobile, making them ideal for attending these courses, the last of which was held in Mallorca. Dr. Rüdiger Eichholz explains:
"The intensive course we recently held in Mallorca was aimed at advanced ultrasound users and provided the participants with new skills, ideas and motivation. We always try to design each course so that there is a 1:1 ratio of theory to practice. We make each theoretical training very interactive, with presentations full of visual information instead of text, which makes the content easy to remember. For the practical units we consider it very important that the participants are able to practice their skills immediately on POCUS systems. We had five Sonosite Edge II platforms shipped to Mallorca specifically for this course, which allowed us to train a wide range of techniques. After the anatomical basics, this information was translated into sono-anatomical sectional images. Interventional techniques were then practiced on the phantom and simple cardiological examinations were practiced.
It was the great need for continuous anesthesiological POCUS training that led the three doctors to publish their book 'Ultrasound in Anesthesiology'. The book, first published (in German) in 2015, was awarded the DGAI Thieme Teaching Award 2015 for its innovative training concept for ultrasound didactics in anesthesiology. The book, now also available in English, explains 39 ultrasound procedures recorded with Sonosite POCUS systems on 320 pages with 632 images. It covers our field of expertise in a complex way—from the basic principles of ultrasound, needle guidance for near-nerve and vascular accesses, to the diagnosis of dyspnea—as Dr. Thomas Notheisen explains:
"There will always be a large number of colleagues who need ultrasound training. This fact is our main motivation for publishing our textbook as a supplement to our training courses. It has already reached over 20% of all German anaesthetists and we want to extend its reach to as many colleagues as possible. We decided to publish it ourselves because it allowed us to safely convey the points of our interest that we felt were most important for ultrasound training. Our goal is to continuously develop all the contents of the book and we will add more topics in future editions. We have taken a very systematic approach to help both beginners and professionals in their daily work. Our book can be used both as a general textbook and to answer specific questions. We wanted to have an extremely large number of images in our book because this visual information is crucial for consolidating our knowledge content. Because the connection to an ultrasound system that provides the best possible nerve imaging is extremely important, we used the Sonosite POCUS systems.
Ultrasound in Anesthesiology is available online.
Share