August 26, 2020
The mission of Partners in Health (PIH) is to provide a preferential option for the underprivileged in health care. By establishing long-term relationships with sister organizations, PIH strives to bring the benefits of modern medical science to those most in need of them.
PIH has been working in Sierra Leone since 2014, upon an invitation from the government to help end West Africa's historic Ebola epidemic. While leading efforts to treat Ebola patients and contain the spread, PIH made a long-term commitment to support the government in revitalizing the country's public health sector and improving access to care for millions of Sierra Leoneans.
Ebola wasn't the only epidemic the country faced. Sierra Leone continues to face some of the world's worst health outcomes, including a maternal mortality epidemic in which a woman's lifetime risk of women dying in pregnancy or childbirth is 1 in 17. (Compared to 1 in 3,800 in the U.S.) That's the highest maternal mortality rate in the world.1
In one of the world's most dangerous places for women and children to live, PIH has led targeted programming to radically improve health outcomes, with a particular focus on maternal health. In the Kono district in eastern Sierra Leone, the improvements have been significant. PIH's model primary care facility, Wellbody Clinic, hasn't seen a maternal death since 2016. And PIH's comprehensive support of Koidu Government Hospital (KGH), the district's only secondary care facility, has led to a 69% increase in facility-based deliveries and a 69% reduction in the time between the decision to perform a C-section and the surgeon's first incision.
These lifesaving improvements wouldn't be possible without clinicians having access to medical technology like a Sonosite ultrasound machine.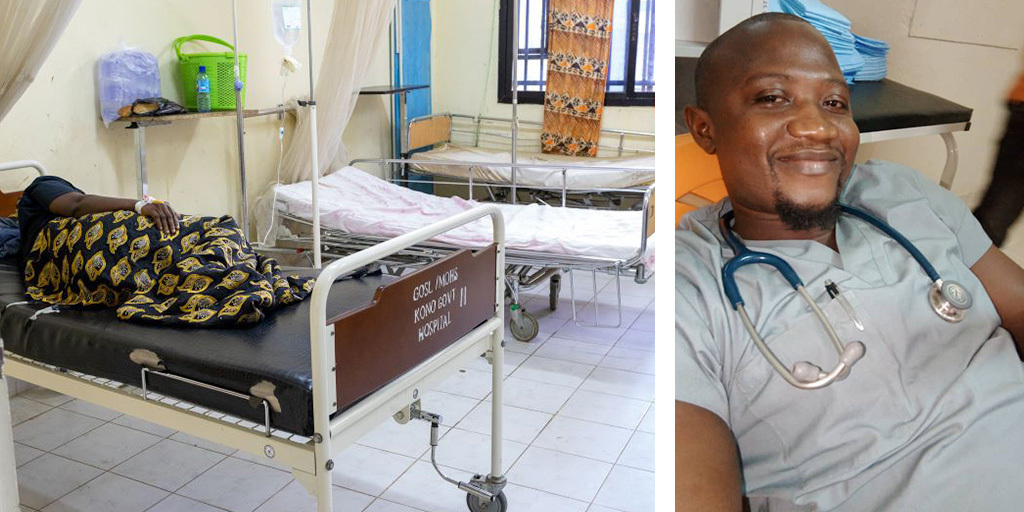 Ultrasound in Demand at Rural Hospital
Sumaila Peyawah is a PIH Community Health Officer working in the maternity unit at KGH. He is a trained sonographer and one of the lead clinicians in the hospital's maternity department. Sumaila scans an average of 60 patients per week, including pregnant and postnatal women.
Sumaila uses a Sonosite M-Turbo in his rounds. Over the years, PIH has purchased many Sonosite systems through Sonosite's Global Health Purchase program, which offers discounted new or refurbished portable ultrasound systems to humanitarian organizations working in remote, low-income communities.
"The ultrasound system is a key diagnostic tool across all departments, including maternity, outpatient, pediatrics, non-communicable diseases, and radiology," Sumaila says. "However, we currently only have one working machine that is used in rotation across all units, and it is always in high demand. We set up a weekly rotation system so that we can maximize its usage."
Ultrasound Motivates Women to Seek Examinations
Sumaila discussed why ultrasound machines are so critical in Reproductive, Maternal, Neonatal, and Child Health, especially in Kono, where health care has long been inaccessible to most families. Giving birth at home without a trained clinician present is commonplace.
"Most women book and present late in pregnancy in Kono, usually with complications. Ultrasound usage supports diagnosis, enabling prompt actions to be taken for emergency situations, as well as plan mode of care/delivery for non-emergency cases. During the prenatal and other periods, we mainly use it to confirm the following items: presentation, position, gestational age, estimated weight, fetal abnormalities, uterine abnormalities, multiple fetuses, placenta position, ectopic pregnancy, liquor [amniotic fluid] volume, and intrauterine fetal demise."
Sumaila described how ultrasound improved patient outcomes.
"Ultrasound helps us make clear and quicker diagnoses, leading to prompt actions. In the labor/postnatal periods, ultrasound has helped us detect fetal distress, leading to prompt intervention and transfer to the surgical theater for a C-section that saves the life of mom and baby. Ultrasound has also detected internal bleeding due to uterine atony, which again led to emergency procedures that saved the lives of mothers and babies. We also use the ultrasound regularly for critical postnatal cases to diagnose cardio and hepatomegaly.

 

Another positive fact is that more women are coming to the hospital, wanting to see their babies on ultrasound. Smaller clinics throughout Kono refer patients for this service. The outpatient department is usually full, with 15+ women waiting for a scan. This gives staff the opportunity to support the mothers to make suitable birth plans based on their findings."
Ultrasound Helps Save Both Mother and Newborn
Sumaila recalled one story in particular that illustrates how, in a health facility without access to an ultrasound machine, life-threatening health conditions would go undetected, unconfirmed, undiagnosed, and untreated—leaving to devastating outcomes. This was long the case at KGH before PIH and Sonosite's partnership. Indeed, ultrasound scans are vital in protecting the health of women and their newborns, and have saved countless lives in Kono.
"A 30-year-old mother in her fifth pregnancy had been referred to the high-risk prenatal clinic at 32 weeks pregnant due to complications. Her first scan revealed that she had an enlarged liver. This led to further tests that showed that she was Hepatitis B positive, and had gestational diabetes. We were able to manage both conditions and refer her to the non-communicable disease clinic for future support. Further scans showed that the estimated birth weight was at least 3.8 kilograms, and her previous children had been under 2.8 kilograms. In order to avoid obstructed labor, the mother consented to an elective cesarean section at 38 weeks gestation.

 

She delivered her son safely, and thanks to detection of her Hep B status, the baby was given a vaccination within 24 hours of birth. (If the mother's status hadn't been not detected, the baby would have otherwise had to wait for two months for the usual EPI vaccinations, by which time he could have become infected.)

 

While in the recovery room post-delivery, the mother became restless and unwell. There were no signs of external bleeding, but a quick scan showed internal bleeding, and she was rushed back into the operating theater for emergency surgery to locate and stem the source of the bleed. Fortunately, this was successful. She recovered well and was able to care for her baby 12 hours later."
To learn more about how your medical organization can purchase new or refurbished portable ultrasound systems for humanitarian missions, visit our SoundCaring page.
References
1UNICEF. Maternal, neonatal and child health. https://www.unicef.org/sierraleone/maternal-neonatal-and-child-health. Accessed August 17, 2020.