November 14, 2019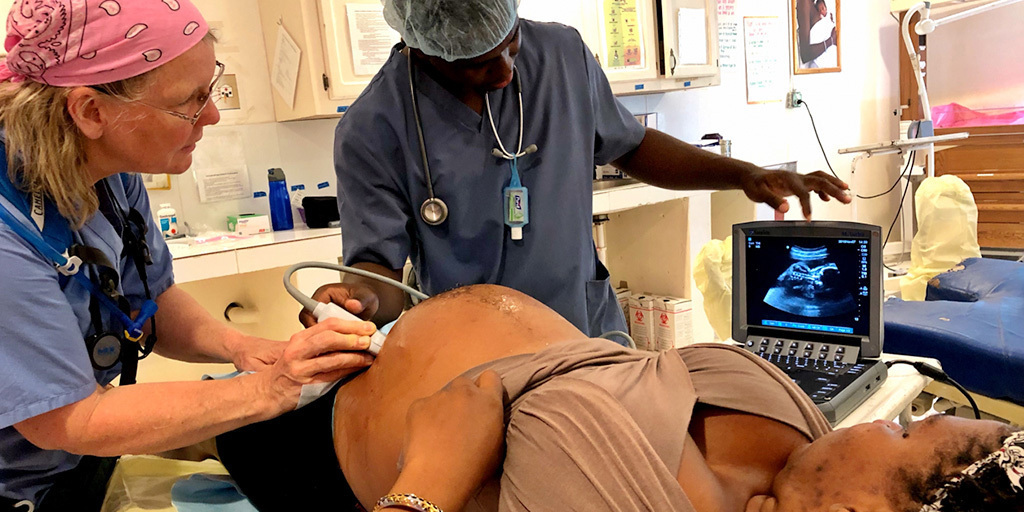 In our June 2017 blog post, we reported on gynecologist/obstetrician Dr. Audrey "Dree" Stryker's mission with the IWISH Foundation to Haiti with the M-Turbo. Dr. Stryker recently sent our Sonosite Global Health program another report from her most recent medical mission to Haiti. She had borrowed a Sonosite M-Turbo with C60x and ICTx transducers from the Global Health Loaner Pool.
In her letter describing the 2019 mission to Haiti (accompanied by her colleague, urogynecologist Dr. Robert Hosty), Dr. Stryker went into detail of how she used the M-Turbo, with our first successful portable ultrasound machine, the legendary Sonosite 180, making a cameo appearance!
So another mission completed, leaving me wishing I had at least three more M-Turbo units in our hospitals and clinics. On our way to dinner, Dr. Hosty was called for a patient in labor. The nurse was concerned about the patient, so we went to the hospital to evaluate her. Carrying an M-Turbo is quick and easy with excellent resolution and color Doppler if needed, and it withstands whatever the Haitian climate throws at it, extremes of heat and humidity as well as the abundance of sand and dust. It just keeps on working! In this case, Dr. Hosty used the machine that I bought a year or so ago. This machine goes from clinic to clinic, and in this case, to the hospital. The three doctors and residents I serve share this one machine.
Before I arrived in Haiti, I found out that the Port-au-Prince general hospital is now officially without a functional ultrasound machine. So, I purchased a used Sonosite 180 for them.
I needed to make sure that the 180 worked, so the next day when I worked in the colposcopy clinic with our first-year resident, we used the 180 to evaluate a 35-year-old primigravida patient with sickle cell trait. The resident hadn't ever used an ultrasound before, so it was reminiscent of my first ultrasound evaluations with so many junior residents. More interesting was that the patient remarked that the image that she had seen in her previous ultrasound of her baby was much clearer. Even the patients can tell the difference between the resolution of the 180 and M-Turbo! The 180 will work just great for the labor and delivery unit until I can get a better unit there for them.
The following day, I worked with a third-year resident with whom I worked in November for several days. The previous year, he was quite awkward handling the transducer. This trip, we worked on finding adnexa and beautiful endometrial stripe pictures with Doppler flow. By the end of the week, the resident had mastered the EM stripe and cervix and was getting most of the adnexa.
One woman in the colposcopy clinic came in for evaluation of her abnormal Pap smear, but the resident picked up on the fact that she had recently developed abnormal uterine bleeding with what appeared to be an endocervical polyp. After her colposcopy, we got out my loaner M-Turbo. We saw what appeared to be an endometrial polyp, with an endocervical component and non-impressive Doppler flow. We have her booked for a saline infusion sonogram, for when I come back with the infusion catheters. Hopefully, we will have the cervix biopsies back by the time we come back and can address both at the same time.
It's always heart breaking for me to bring the loaner back, but at least that frees the other ultrasound machines up for use by someone else while we are doing teaching clinics. It is a powerful experience that we get having the privilege of using the loaner scanners for these clinics! It certainly makes everyone aware of how important these machines are for women's healthcare.
Dr. Hosty pointed out during this trip that the vaginal probe works great for his prostate biopsies. I will take his word for that. Personally the closest I got to that was a trans-abdominal ultrasound guided drainage of a prostatic abscess on a police dog when I was in the military. With a good ultrasound machine, you can always think outside the box in order to help women, men, and even doggies.
Thank you Sonosite for developing the technology that can withstand the harsh Haitian conditions, and for being willing to loan our team the high quality workhorse, the M-Turbo.
With sincere appreciation,
Dr. Audrey Stryker 
IWISH Foundation