August 20, 2020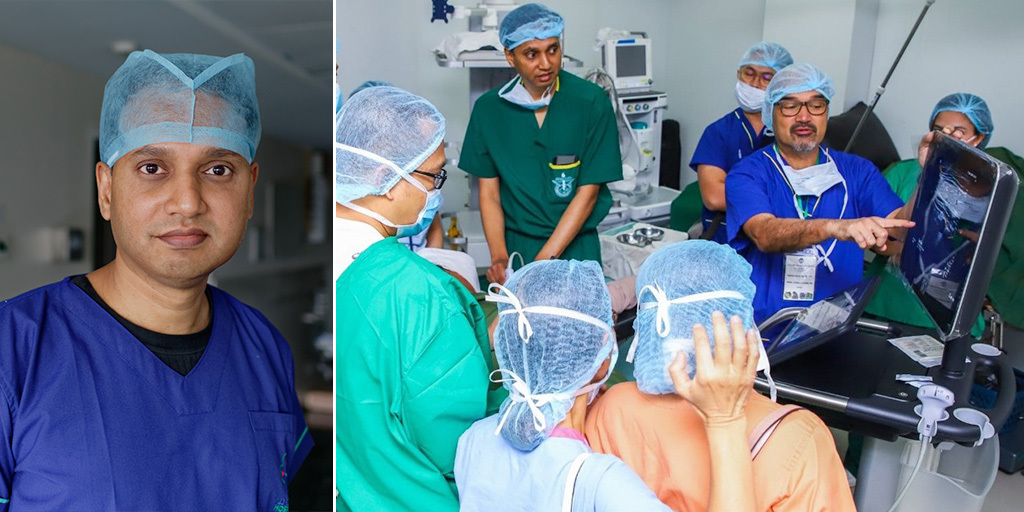 Dr. Amjad Maniar is a consultant anesthesiologist at People Tree Hospital in Bengaluru, India. He spoke with Sonosite about his journey from using landmark techniques to ultrasound-guided regional anesthesia.
Discovering Ultrasound
Back in early 2000, when I was a resident studying in Bengaluru, I was quite reluctant to incorporate regional anesthesia into my practice. Those were the days of the landmark technique, and nerve stimulators were strictly the guarded property of the scarce enthusiast. For a trainee like me, struggling to find his wings in a difficult specialty, learning to drive a needle through an assumed anatomical landmark and unloading a large syringe of the drug against other imaginary structures was not very beneficial in routine patient care practice.
In 2008, I got my first introduction to ultrasound by chance at Columbia Asia hospitals, where they had procured a Sonosite Micromaxx point-of-care ultrasound system. Even though I had heard that the ultrasound was emerging as a valuable tool for regional anesthesia, my past experiences had convinced me that I perhaps did not have the necessary skills and acumen to be good at adopting it.
Despite my reluctance, I had to learn to use the ultrasound machine since everyone else was trying to adopt it in our department. As I got past the initial hesitation, there was a certain draw to it. Though the images were not familiar to me and challenging to generate, for the first time I could see the sono-anatomy of desired structures and targets. This was tremendously appealing, as was the challenge to develop the skill to align the probe and the needle. For someone who was afraid to do blocks under landmark techniques, the arrival of the ultrasound machine acts as a boon and would eventually redefine my practice in anesthesia. I am sure that my story is not unique.
An Ultrasound-Guided Revolution
It was a revolution of sorts, and the following decade has shown the contribution of ultrasound in transforming the way we deliver health care.
I have seen regular improvements in Sonosite systems in keeping the anesthesiologists and users' requirement in mind, whether it's a simplified user interface or creating a new probe for specific application. Sonosite's legendary image quality, fast boot up, reliability, and support make their range the first choice machine for most clinicians.
These small, but high-quality machines help us in delivering precision care every day. More so, they have helped us salvage difficult clinical situations on countless occasions. As our knowledge has rapidly evolved with point-of-care ultrasound by our side, we have seen the utility of these machines in a much wider aspect of clinical care. Today, our Sonosite machines are used for ultrasound-guided vascular access, lung evaluation, cardiac ultrasound, and FAST scans. However, it is the resurgence of regional anesthesia that ultrasound should be credited for. We can now assure safe, predictable anesthesia and pain relief for our patients who come for surgery. With this valuable tool, our priority has now clearly shifted on ensuring that there is no pain after surgery.
Spreading POCUS Awareness
As I quickly grew more adept with the ultrasound, there was a need to share the knowledge that we were gaining by creating educative opportunities for fellow anesthesiologists in the region to benefit from. Over the years, Sonosite has supported numerous conferences and workshops on ultrasound. These meetings have now transcended geographical boundaries and have brought together clinicians and societies from all over the world. The Academy of Regional Anesthesia of India (AORA) is one of the youngest and largest societies in the world committed to education in regional anesthesia.
After more than 12 years of work with these machines, it is hard to imagine my work life without one. Just as I believe ultrasound has made a difference in my career, ultrasound has also made a significant difference in the lives of the patients who I have care for.