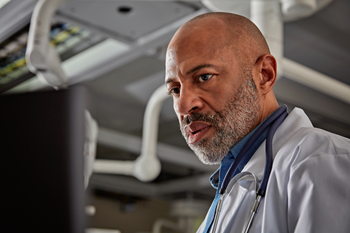 It probably wouldn't be accurate to talk about customer service as a "department" or "team" here at Sonosite. That's because each individual is empowered to do whatever is best for the customer. Whether that means being on a first name basis with your Clinical Specialist, a sales rep rushing out a loaner system in a snowstorm, or a friendly voice walking through tech support, it's an all-hands, whatever-it-takes mindset that infuses everything we do.
The result is nothing short of legendary in the ultrasound industry. Deep, lasting, personal relationships with customers that endure, and ultimately result in better patient outcomes at the end of the day.
Reliability You Can Trust
Sonosite was the first to offer a 5-year warranty for one simple reason: they are built to last. From day one, these systems have been built to U.S. Department of Defense specifications and to check three mission-critical boxes: Durability, Reliability, Ease of Use.
Because we know how much you rely on your Sonosite systems, we build them to have the industry's lowest downtime with no preventive maintenance required resulting in a compelling total cost of ownership and the confidence that you have a system that can keep up with you in any environment.
An Unmatched Loaner Program
If you're a Sonosite customer there is one thing you will not be without, a working Sonosite system. If we can't troubleshoot a solution with tech support or otherwise, we'll ship out a loaner system for delivery the following business day, at no extra charge if you are within the warranty or have an extended service agreement. The most important thing is that you have a replacement working system as quickly as possible.
Set-Up and Training
Saying our Clinical Specialists take their relationship with customers personally would be putting it mildly. If you need your system assembled on site and every last button explained and re-explained, we're on it. If you just need the tutorial and us out of your hair, we can do that too.
With every new Sonosite system, our team goes above and beyond to ensure our customers are set up, trained, and ready to hit the ground running.
Education
We believe deeply in the power of POCUS which is why Sonosite is dedicated to empowering and educating medical professionals through continuous learning and the sharing of new techniques and workflow applications.
Our commitment and clinical expertise are second to none within the point-of-care industry. Through in-person and online learning options, we work closely with physicians, nurses, and other clinical educators to produce specialty-specific educational POCUS content. This includes customized training, hands-on scanning workshops, and Technical and Service training.
In addition, to help our customers optimize their skills and confidence, we offer vital online learning resources which are frequently updated with fresh content:
The Sonosite Solution: Provides the tools and resources to improve care quality and reduce health system costs via quality-improvement programs focused on central venous catheterization (CVC), peripheral intravenous catheter (PIV) insertions, paracentesis placement (PARA), and thoracentesis (THORA).

Sonosite Institute for Point-of-Care Ultrasound: In-depth training modules serving Sonosite customers of varying specialties. Follow-up training and skill set expansion to other areas of interest.

SonoAccess App: High-level training for anyone (not necessarily a Sonosite customer) looking to learn more about point-of-care ultrasound.

Sonosite Education Webinars: Join live webinars or playback previous ones for expert-led sessions discussing trending POCUS topics, in-depth procedures, specialty-specific content, and our latest point-of-care ultrasound solution demos.