Hospitalists are masters at navigating the labyrinth of specialties and departments as they deliver comprehensive care to hospitalized patients. Not only are hospitalists given the responsibility of managing the clinical challenges of the acutely ill, they must do so with the most efficient use of hospital resources. Sonosite's hand-carried ultrasound systems help hospitalists meet both of these needs.
Sonosite Offers a Range of Customized Products That Provide:
Advanced imaging features for exceptional image quality with minimal key strokes
Fluid-resistant user-interface for easy cleaning and disinfection
Under 20 seconds from cold start to scanning
Custom use models for point-of-care applications
Built to exceed U.S. military specifications for durability
Industry leading 5-year warranty
Extensive training and education programs
What Our Customers Have to Say
"It's so much more fulfilling to be able to see what you're doing under ultrasound guidance. Plus, knowing that it's safer for patients makes me feel like I'm doing the right thing as a physician."

Bradley T. Rosen, MD, MBA, FHM, Medical Director, ISP Hospitalist Service Proceduralist, Cedars-Sinai Medical Center, Los Angeles, California
"I have been extremely impressed with the level of service, commitment, and professionalism from Sonosite. From the sales force to the application specialist to the directors, each encounter with the company personnel was a collegial one, rooted in education."

Joshua D. Lenchus, DO, RPh, FACP, FHM, Assistant Professor of Clinical Medicine, Div. of Hospital Medicine, Dept. of Medicine, University of Miami, Miller School of Medicine, Associate Program Director, Jackson Memorial Hospital Internal Medicine Residency Associate Director, UM-JMH Center for Patient Safety, Miami, Florida
Did You Know Ultrasound-Guided Nerve Blocks are Reducing the Use of Opioids?
Watch how St. Joseph's Heath Care System is using ultrasound to help to reduce the opioid epidemic.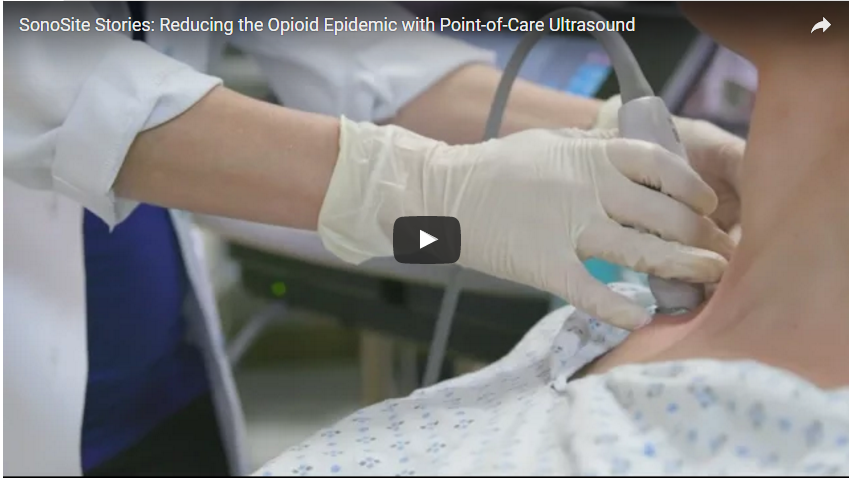 ‍‌
Related Articles