August 29, 2019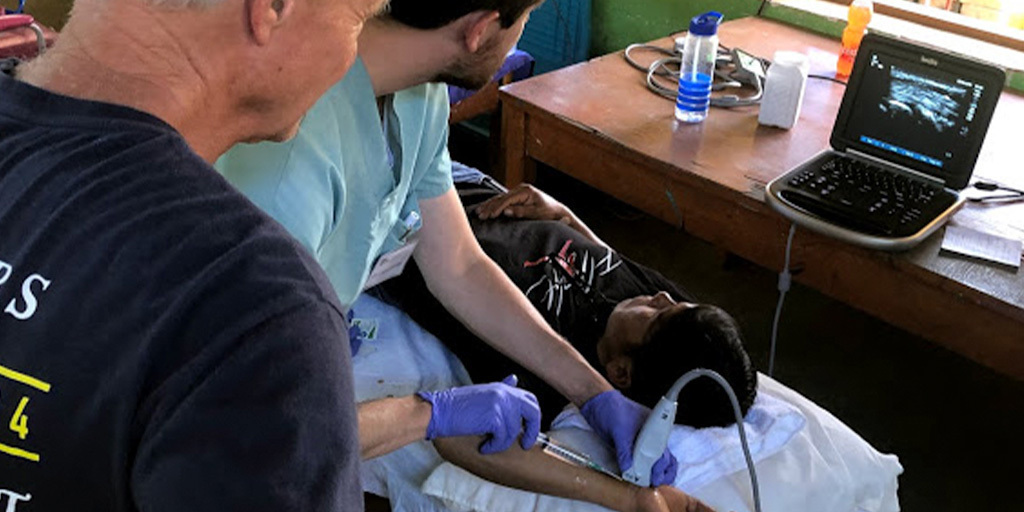 Sports medicine specialist Dr. David Sealy, MD CAQSM works with the Volunteers in Medical Missions, a Christian medical organisation that sends 15 to 18 medical missions a year to countries around the world. Dr. Sealy returned from a 10-day trip in the high Andes in Peru, visiting five villages over a five-day period to provide medical care. Dr. Sealy's team included eight doctors, two nurses, a Pharm.D., and five more volunteers. Partnering with a church in Lima, his team set up clinics in schools, churches, posta medicas (small public health clinics), and other community buildings. They saw about 1,550 patients, performing 960 procedures. Of these procedures, about 250 involved ultrasound.
Through Sonosite's Global Health Loaner Pool programme, Dr. Sealy borrowed two Edge portable ultrasound machines with six transducers. His team used the handheld portable ultrasound devices for shoulder, knee, ankle, elbow, wrist, and small joint injections. They treated patients for carpal tunnel syndrome and osteoarthritis, common ailments for farmers plowing their fields by hand. They also did a number of OB scans to assess foetal dating and status. "We know the devices well. I run a primary care sports medicine fellowship that has used Sonosite products for over 10 years," Dr. Sealy says.
Dr. Sealy described the profound impact a portable ultrasound machine can have in resource-limited areas.
"Obviously in a region where healthcare is scarce and the poverty is ubiquitous, an ultrasound machine is wonderful and very special to patients. The majority of the patients are employed in an agrarian setting, and by the time they are in their late 30s and 40s, they have advanced osteoarthritis, and some have severe gouty arthritis. Many are able to walk again with knee and ankle injections, and return to work after shoulder and wrist injections. The majority of the knees we injected with landmarks, but all other joints we did with ultrasound guidance. We also see a lot of rheumatoid arthritis that goes entirely untreated there. The steroid injections give them months of relief, especially in their small joints. And the OB scans were a delight to the moms, of course. "
The Edge machines performed superbly, as Dr. Sealy writes:
"I cannot thank you guys enough for the use of the two ultrasound units. The Sonosite systems are wonderful and so robust for the hard work we put them through. The image quality was great, considering we were in very remote and desperately poor locations. The adapters were a life saver as well."
While FUJIFILM Sonosite, Inc. supports the improvement of health care in the global community, we do not officially endorse any of the charities and organisations that are mentioned or linked to on our Global Health page.
Read More Stories of Ultrasound for MSK Medicine
A One-Stop Musculoskeletal Service for Pain-Free Living
Who Orders the Most MSK Extremity Imaging?
Point-of-Care Ultrasound Shows Promise for Osgood-Schlatter Diagnosis