June 19, 2019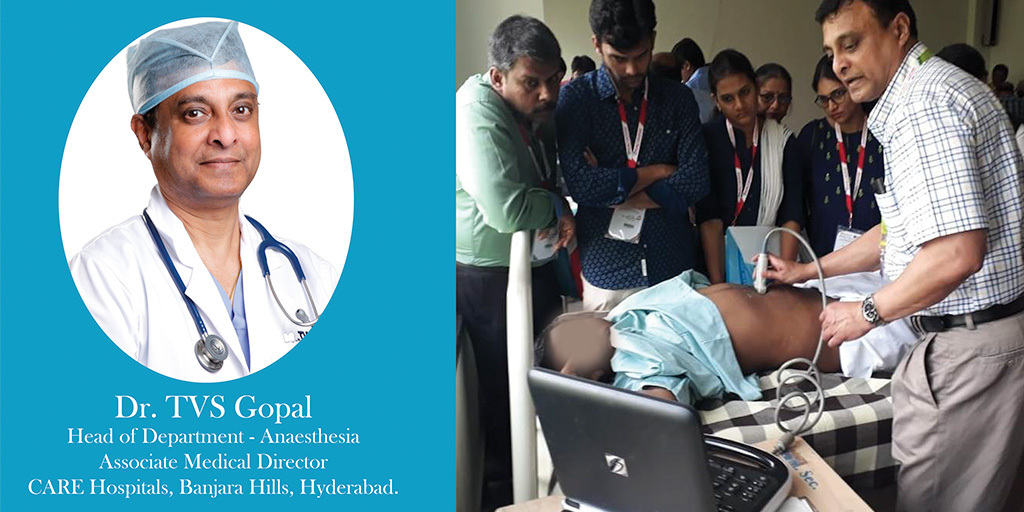 Dr. T.V.S. Gopal, Head of the Department of Anaesthesia and Associate Medical Director at CARE Hospitals in Hyderabad, India, has been practicing for more than 30 years. In this recent interview, Dr. Gopal discusses how POCUS has transformed the craft of anesthesiology and the many scenarios where he uses ultrasound.
When did you start using ultrasound?
I began my foray into ultrasound guided regional anesthesia in year 2006 when I attended the Second Advanced Regional Anaesthesia & Ultrasound Guided Peripheral Nerve Block Course conducted by the Aesculap Academy in Tan Tock Seng Hospital, Singapore. I immediately realized that this emerging technology would inevitably refine practice and that the benefits must be disseminated to anesthesiologists across India through concerted teaching efforts. I am proud to say that with steadfast support from Sonosite, we have conducted several hands-on ultrasound workshops and improved awareness with respect to utility of point-of-care ultrasound for the anesthetic community.
What do you find most useful about ultrasound systems in point-of-care delivery?
As the name itself suggests, the ultrasound machine is taken to the patient in need, and not vice versa. The transformation from bulky, cart based machines to compact and light weight machines have fostered acceptance of ultrasound technology by non-radiologists. Quick boot-up time of the system, immunity to virus corruption, smooth image frame rate that are not prone to hang, and simple user controls are features that stand out. The resolution of images is also improving rapidly with technological advancements. The ability to archive, retrieve, and transmit images and video clips aids in reviewing one's progress and also promotes the reproducibility of images.
Ultrasound technology is alien to anesthesiologists, and familiarization with ultrasound physics, image interpretation, and "knobology" is essential to enhance optimal utilization of the machine.
How have POCUS systems changed the way you practice anesthesiology?
POCUS systems reinforce the adage "seeing is believing". Though there is a learning curve to mastering this technology, the ability to visualize neural structures and surrounding anatomy during the needle advancement plus deposition of local anesthetic in real-time motion has brought about a paradigm shift in the practice of nerve blocks.
The availability of the ultrasound machine in the OR and ICU has led to the utilization of this technology for newer blocks, arterial and venous access, optic nerve sheath diameter assessment in neurosurgical patients, performing transthoracic echocardiograms, and basic lung ultrasound for rapid identification of any pathology.
Do you think ultrasound guidance in regional anesthesia is more accurate and efficient than the traditional techniques?
Without an iota of doubt, yes! Visualization in real-time motion lends itself to further precision, safety, and acceptance by patients and physicians. The numbers of needle passes are far fewer, which has led to the lowering of injected local anesthetic drug volume by about 50% or more. Accidental injection of drug into vascular compartments has virtually vanished, and ultrasound has proven to be an effective assistance tool during procedural guidance. Nerve blocks have become more predictable and reliable. Even for neuraxial blocks, the practice of pre-procedural ultrasound scanning in adults and the parturient has enhanced end-user confidence.
Today, blind central venous access is a forgotten technique, and I can proclaim that my DNB students, apart from the consultants in my department, are fairly adept at performing ultrasound guided procedures. "Eyeballing" transthoracic echocardiograms and assessment of inferior vena cava collapsibility under ultrasound visualization facilitates rapid optimization of hemodynamic parameters in high risk surgical patients.
How efficient is POCUS in placing perineural catheters, and what are the benefits?
Visualization of the catheter tip ensures proper placement in the vicinity of the nerve or plexus and improves the success and quality of postoperative analgesia. Periodic inspection with ultrasound also shows information on catheter migration, if any, whereupon the catheter may be repositioned under ultrasound guidance.
Which applications do you think POCUS is supporting in anesthesia and its allied clinical applications?
Though I began using ultrasound for regional nerve blocks, I soon realized the utility of ultrasound for venous access, both peripheral and central. Ultrasound guidance is now encouraging us to place supraclavicular subclavian venous access with minimal complication rate. I also use ultrasound for arterial access, airway and gastric volume assessment in preoperative patients with doubtful fasting status, optic nerve sheath diameter assessment as a surrogate marker for intracranial pressure in patients with traumatic brain injury, inferior vena cava assessment for volume status, basic transthoracic echocardiograms, and lung ultrasound. There have been instances where we assisted surgeons in cases of peripheral schwannoma removal, drainage of deep seated abscesses, and removal of foreign bodies by identifying lesions with perioperative ultrasound.
Would you agree that using ultrasound for guided procedures facilitates better patient safety and reduces hospitalization cost to patients?
Obviously, yes! A case in point is the TAVR program. All venous and arterial punctures are only done with ultrasound guidance. Today, Sonosite high resolution portable ultrasound systems are readily available in our operation theater complex, emergency suite, cath lab suite, and medical intensive care units. Patient comfort is assured by point-of-care ultrasound, which reduces need for transporting patients for procedures and investigations, and also by the precision with which diagnostic and therapeutic procedures are accomplished.
How do POCUS systems fare in training the doctors?
One of the advantages of modern ultrasound machines is the facility to archive images and clips for training. The learning curve for ultrasound guided procedures, especially with an understanding of basics of ultrasound, and proctorship by trained teachers is dramatically shortened. I firmly believe that the ultrasound machine is an integral component of the anesthesiologist's armamentarium in modern day practice.
Learn More about Ultrasound in Anesthesiology
Establishing an Acute Pain Medicine Program that Adds Value
Hospital Continues Efforts to Reduce Opioid Over-Prescription
POCUS Profile: Dr. Ilyas Tugtekin (Anesthetist teaching POCUS in West Africa)