August 27, 2019
Emergency physician Dr. Chau Pham is the founder and Co-Chair of Canadians Helping Kids in Vietnam (CHKV), an organisation established in 1995 to help improve the lives of the poorest in Vietnam by improving conditions that directly empower children.
Dr. Pham knows all too well the challenges Vietnamese children face. She was a refugee herself, coming to Canada from Vietnam when she was seven years old in 1983. She was diagnosed with TB, and had to stay in a Thai refugee camp for treatment for a year before she was admitted into Canada. It was during this formative time that she came to understand the life-transforming power of medicine.
Dr. Pham is eternally grateful to her adopted country, and she remains determined to give back to both Canada and Vietnam. "I appreciate the training I received, the opportunity to give back to my birth country, to help children who could have been like myself. My life could have been very different. I love my second birth."
CHKV achieves their mission of empowering children through a variety of programmes. Monthly sponsorships through the Education and Family Support Programme encourages parents to send their children to school rather than have them stay at home to work. Many of these children must travel long distances to reach their schools, so the Biking on a Child's Future campaign allows Canadians to donate funds to purchase bicycles from local manufacturers in Vietnam.
CHKV also sends teams of physicians and dentists to resource-limited areas in Vietnam. The Canadian physicians share their knowledge, procedural skills, and equipment with the local hospital physicians. CHKV emphasises the importance of training and supplying rural physicians who don't have the same access to medical technology as urban doctors. "We want each physician we teach to train ten more doctors," Dr. Pham says.
For their 2019 mission to Ang Giang province, CHKV recruited four emergency physicians, one paediatric emergency physician, one paediatric intensivist, two obstetricians and gynaecologists, one family doctor, one palliative care specialist, and one STARS air ambulance paramedic. They set up shop at Ang Giang General Hospital, a six-hour drive southwest of Ho Chi Minh City.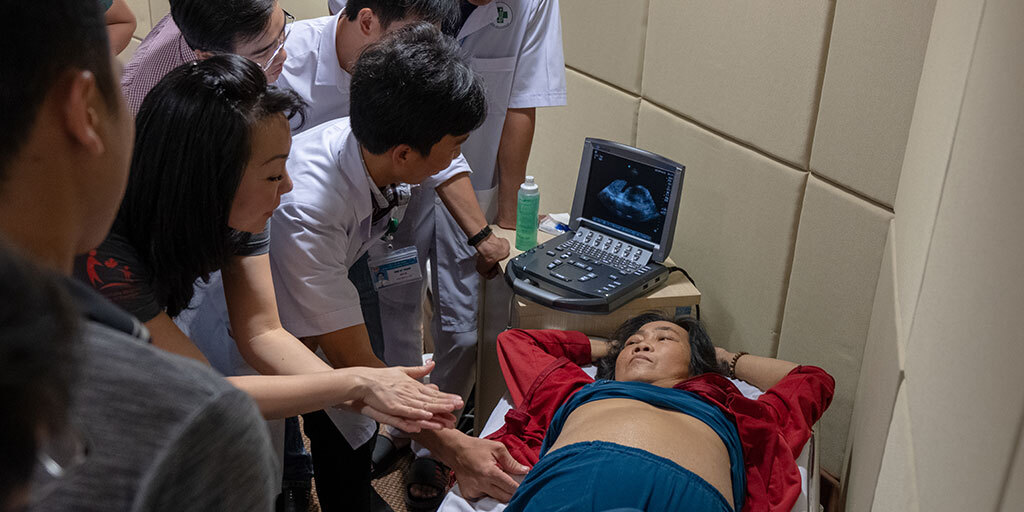 Dr. Pham reached out to Sonosite's Global Loaner Pool programme for this mission. Sonosite responded with a loan of five M-Turbos, along with C60x, L25x, and P21x transducers. With these portable ultrasound devices in hand, Dr. Pham's team held a two-week medical symposium at the hospital.
"Our symposium had different stations. First a lecture, and then a hands-on skills station where students would practise in groups. We taught applications for eFAST, MSK, advanced cardiac, advanced lungs, and resuscitation. Our collaborators wheeled in real patients, so they had the opportunity to identify what was normal and abnormal on a live patient."
Because of the language barrier, it wasn't easy for Dr. Pham's team to teach these valuable POCUS skills. But even this obstacle turned into an opportunity, as Dr. Pham explains:
"Teaching POCUS in a different language is challenging. You rely on a translator, and that slows you down. But by the end of week, the students are teaching each other! How beautiful is that? We wanted our first wave of students to be able to teach other rural physicians these lifesaving skills. And you can see it. After the first few days, they can already help the new participants. They would grab the newer students' hands and guide them, all in the span of two weeks. It was a beautiful learning curve to see!"
She shared two memorable stories where ultrasound played a key role.
"We went into the ICU, where the physicians were treating a 16-year-old girl in severe diabetic ketoacidosis. She needed aggressive fluid management to help her, but she was only receiving maintenance fluid administration. We showed the doctors how to use POCUS to assess for fluid responsiveness by scanning her heart, lungs, and IVC. Her acidosis and metabolic derangements improved. Such a small, clinical skill made a huge difference! We were also asked to go and examine an unstable, critically ill 23-year-old woman with lupus who was septic and requiring high vasopressor support. Her condition was worsening despite conservative treatment with antibiotics. We scanned her heart, and it took me less than two seconds to see the massive pericardial effusion. We were able to add another working diagnosis of pericardial tamponade to her management, which was lifesaving."
Dr. Pham was able to leave behind a Sonosite M-Turbo in Ang Giang, allowing her students to sustain their newly-acquired critical care skills. CHKV shows the importance of POCUS education by spreading and sustaining lifesaving skills throughout Vietnam's poorest communities.