January 12, 2015
Ultrasound educator Ingrid Yuile took her training skills and Sonosite EDGE to the steppes of Mongolia and found a country of beauty and complexity.  This is her story…
"In June 2015, I set off with 8 intrepid emergency physicians to teach emergency medicine to Mongolian doctors across a range disciplines. A strong relationship between Australian and Mongolian anaesthetists has been forged since 2001 when Dr David Pesod first represented Australia at an anaesthesia conference. 
Over the years, Australian volunteers have delivered quality training in obstetrics and gynaecology, midwivery, paediatrics, surgery and emergency medicine. To my knowledge, this is the first year a sonographer has been involved to specifically teach point of care ultrasound techniques.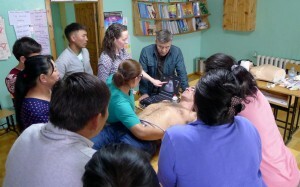 After months of preparing talks, organising equipment, getting visas and reading countless emails, the group was set to go. I was thrilled to be part of an Initial Emergency Care (IEC) team along with FACEM doctors Simon Smith, Wolfgang Merl, Mark Putland, Robyn Parker, Luigi Marino, Ben Delaney, Rob Melvin and Peter Jordan. We were invited by the Mongolian Society of Anesthesiologists to teach emergency care."
Check out the full story here.
Ingrid Yuile Ultrasound Educator, B.App.Sc (Exercise and Sport Science), Grad Dip (Med US), AMS
Ingrid is an accredited medical sonographer with 7 years of experience scanning in hospitals and private clinics across the country. She is passionate about ultrasound and has always been involved in the training of junior sonographers in the work place. Ingrid joins us part-time to enable her to continue clinical practice as a general sonographer. With a background in exercise and sport science, Ingrid's main area of interest is musculoskeletal imaging.