August 15, 2019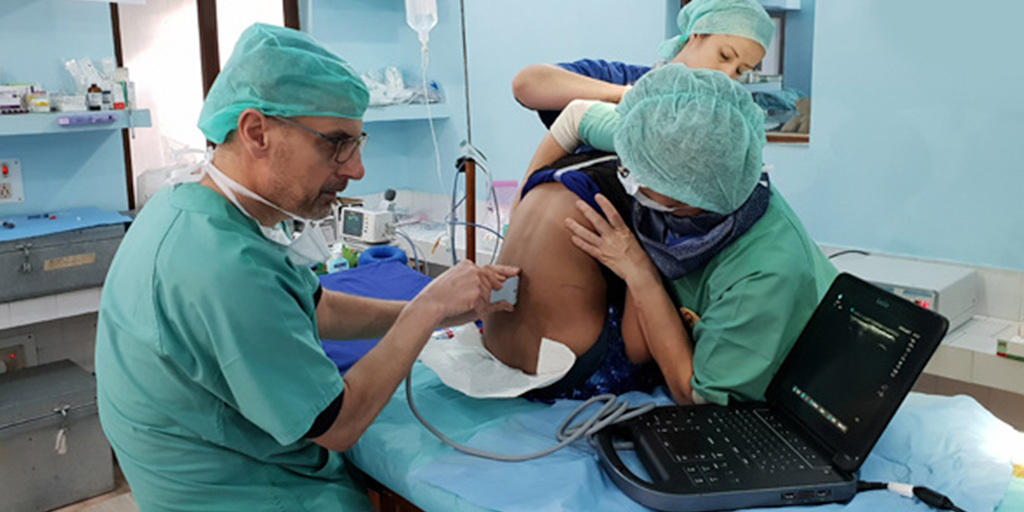 Asha Vihar is a development aid project in the state of Jharkhand, Eastern India that delivers free healthcare to those who need it most. Anesthetists Dr. Lukas Fischer and Dr. Peter Lembach volunteered at Asha Vihar's annual surgical camp for children with musculoskeletal abnormalities. Dr. Fischer depended heavily on using point-of-care ultrasound (POCUS) to guide needle insertions and provide regional anesthesia, enabling life-changing interventions.
Many people in India cannot afford health insurance or pay for surgery that their child may have needed for many years. These families depend on charities such as Johar Gesellschaft Deutschland, which is well known across the Jharkhand region for delivering free medical services. The charity runs the Asha Vihar development aid project, which includes surgical camps.
The surgical camp primarily focuses on individuals with deformities of the feet. In 2019, the volunteer surgical team, headed by Dr. Hans-Georg Zechel, successfully treated 26 children, from ages seven months to 16 years. Dr. Zechel explains:
"The most common type of deformity was club foot, but also deformities of the lower legs, such 'tibia vara' (Blount's disease), a growth disorder of the tibia that causes the lower leg to angle inward, resembling a bowleg. We also treated two children with malunions of previous fractures that required correction, and one with changes to the shape of the bone due to osteomyelitis."
Dr. Fischer knew that he would be using regional rather than general anesthesia, and so he made it a priority to use ultrasound.
"I find that Sonosite machines offer a very clean picture. The company kindly loaned me a Sonosite Edge II for us to use. It is very quick and easy to clean – another important consideration in a potentially infectious environment. Once there, I was even more grateful to have it because a general anesthetic was out of the question, both because many children were suffering from latent colds, and because the hospital's ventilator did not function reliably. My colleague Dr. Lembach and I had all the time we needed to properly prepare the children for surgery. With sufficient premedication through the rectal route, they easily tolerated insertion of an intravenous cannula and spinal block and were breathing spontaneously throughout the procedure. Since spinal blocks don't last very long in children, we supplemented them with either a caudal block for bilateral surgery, or a femoral or sciatic nerve block if only one leg was involved, at the end of surgery. We used ultrasound to guide the blocks, and it was very reassuring to be able to see that the needle was in the right place. Our youngest patient weighed only seven kilograms, so the anatomical structures were very tiny, and we could also see the anesthetic spreading around the nerves. POCUS consistently and clearly allowed us to identify where the nerves were. We also occasionally used ultrasound imaging to help us diagnose severe abnormalities of the spinal column."
Dr. Fischer highlights the indispensable role of POCUS in all the surgeries performed during the camp:
"I honestly feel that I would not have accepted the mission had I not been able to use ultrasound; it would not have been clinically safe to do so in light of general anesthesia not being possible."
While FUJIFILM Sonosite, Inc. supports the improvement of health care in the global community, we do not officially endorse any of the charities and organizations that are mentioned or linked to on our Global Health page.