June 01, 2015
It is sometimes easy to forget how privileged we are to have access to modern conveniences, healthcare technologies and services. Fortunately, at Sonosite, we enjoy supporting many adventurous care providers who share their skills in resource limited countries. One such Doctor is Dr Jennifer Chao. Upon her return from El Salvador we received this informative email: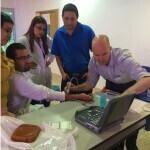 On May 19 and 20th, twenty-one physicians in El Salvador participated in a 2 day paediatric bedside ultrasound course at Benjamin Bloom Children's Hospital in San Salvador, El Salvador. This is the fourth time that such a course has been presented at this site, with the support of Sonosite in the form of loaner equipment. The participants included 13 physicians from within Bloom, and 8 from surrounding hospitals. In fact, we were informed that there were another 20 plus physicians that were interested in participating, but to optimise the class size, the class was closed at 21.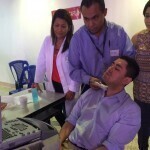 The topics covered include an introduction to bedside ultrasound, FAST, lung, musculoskeletal, procedures, cardiac, RUSH, kidney and bladder, and paediatric abdomen (pyloric stenosis, intussusception and appendicitis). All of these topics were requested by the participants. The format consisted of morning lectures mixed with in classroom practise, and the afternoon was spent with patients focusing on pathology. One of the most gratifying moments, was watching the early adapters from the Bloom team teaching the others!
The learners were incredibly enthusiastic, and in particular some of the surgeons were anxious to use the FAST to decrease the number of DPLs they perform. Aside from teaching/ encouraging the use of bedside ultrasound, this trip was also an opportunity to further explore how they have adapted the FAST to help with the management of Dengue.... hopefully there will be more on this coming in the near future!
Thanks again for the support.
Jennifer Chao