December 30, 2019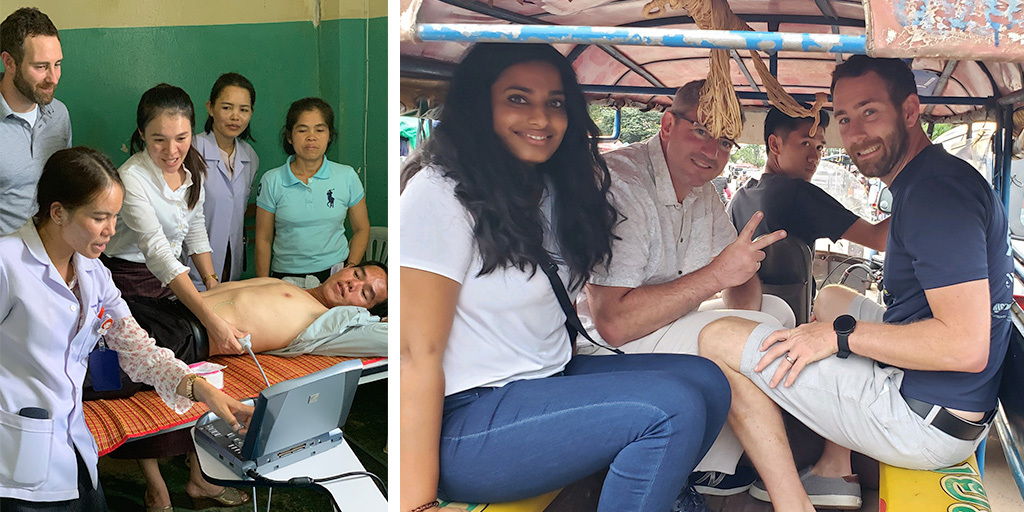 Dr. Jeff Dan, MD is an assistant professor of emergency medicine at Baystate Medical Center, which serves as a regional campus for the University of Massachusetts Medical School. He recently returned from his third trip to Vientiane, Laos on behalf of the nonprofit group Health Frontiers. Two years ago, Health Frontiers began an emergency medicine residency training program. To help develop this program, Dr. Dan traveled with two emergency ultrasound fellows and two educational fellows to Laos to provide a survey course in emergency ultrasound. His team borrowed four M-Turbos for this latest mission. Dr. Dan shared his experiences with Sonosite.
Vientiane is an increasingly busy city nestled along the Mekong River. Although Laos is seeing tremendous growth, diagnostic equipment is not nearly as readily available as it is in the United States. Though there is no charge for patients to come into the hospital and see a physician, there is a charge for medications and consumable products. Advanced imaging such as CT scans and MRI are not readily accessible. For this reason, ultrasound is ideal for this environment. Besides the equipment itself, there are no additional costs, and ultrasound can be used to help diagnose innumerable conditions, from appendicitis to heart function to broken bones. Ultrasound provides dynamic information on body systems that can be critical in making decisions about management.
Fujifilm Sonosite was kind enough to lend us four machines, which we brought to Vientiane for use in training emergency medicine residents learning emergency ultrasound. We gave lectures on a wide variety of topics, including ultrasound applications in biliary disease, cardiopulmonary disease, and critical care applications. This course has been very well-received, and there is quite a lot of interest in learning more and better utilizing this tool to provide the best possible healthcare for their patients. In addition, we were to use the Sonosite machines to examine patients in the emergency department, the intensive care unit, and pulmonary wards.
There have been numerous cases over the three years where having an ultrasound machine has made a big difference in patient care. Every time we travel there, we have found patients with large cardiac effusions leading to tamponade. This may be due to the higher incidence of tuberculosis, which can cause tamponade. We also discovered a case of pulmonary embolus after a pregnancy, and many patients with pulmonary edema whose outcomes improve once the fluid was identified and treated. 
It has only been in the last 15 years that ultrasound has really become a routine part of emergency medicine in the United States. I am very hopeful that in a very short period of time, emergency medicine physicians in Laos PDR will also begin routinely incorporating this modality.
Read More about Ultrasound in Resource-Limited Areas
The World Needs More Ultrasound Machines
Global Health: 3 Case Studies Show the Value of POCUS in Resource-Limited Healthcare
Ultrasound in Limited-Resource Settings can Help Saves Lives