October 20, 2020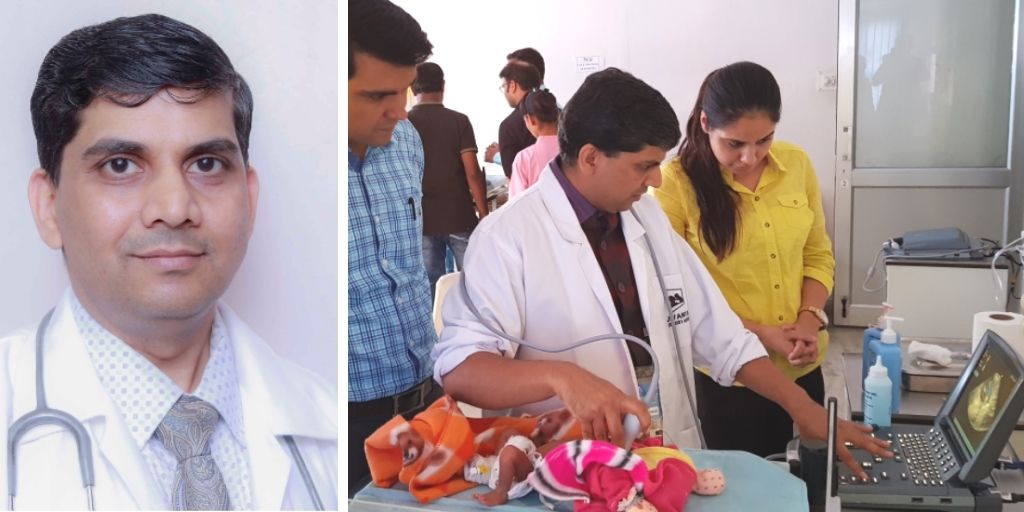 Dr. Pradeep Suryawanshi, Professor & Head, Department of Neonatology at BVU Medical College, Pune, India has 15 years of experience in field of neonatology. He is the first person to commence point-of-care neonatal ultrasound and neonatal functional echocardiography courses in India. He recently shared his views about how the use of point-of-care ultrasound has made a significant impact in his routine clinical practice.
Back in 2007, was the first time I ever handled the Sonosite ultrasound system in India and that was like magic embracing me and enlightening me with a confirmation of all my clinical knowledge within a fraction of seconds. This wasn't only exciting but also gradually became my obsession. The availability of the ultrasound system at the bedside was the biggest plus point for me in the NICU. The easy transport of the machine in the intensive care setup, user-friendly mechanics of the machine and the comfortable handle for carrying the machine within the departments are the bonus points.
The ultrasound which was once taught only to radiologists, now helps us (neonatologists) in understanding many of the lifesaving diagnoses such as identifying intracerebral bleeds, monitoring common conditions like shock for assessing the volume status, critical congenital heart diseases, and other congenital anomalies. The image clarity and the comfort of the hand probe make ultrasound modality a first choice for the neonatologists.
After the advent of point-of-care ultrasound (POCUS), I focused more on the quality of life we can provide rather than the quantity just by diagnosing the grade/degree of an IVH, presence of PVL and the critical congenital heart diseases for which there is either a cumbersome long-staged treatment with poor prognosis or no treatment at all. Also, many procedures like lumbar puncture and suprapubic catheterization are more successful after the adoption of POCUS. Now we don't have to shift ventilated neonates or hemodynamically unstable neonates for their cranial neurosonograms and echocardiographies outside of the NICU because of the availability of POCUS systems at the bedside.
After the incorporation of point-of-care ultrasound in to my clinical practice, I don't remember missing out on the positions of even a single PICC line, umbilical catheter, not even the minimum grade of IVH which could have been missed earlier by the older machines.
My applications in neonatology cater to the cranial neurosonogram, functional echocardiography, lung ultrasound scores, gut sonograms and checking for line positions. Now we have commenced use of point of care for research purposes. It does reduce the complications associated with the transport of the unstable neonates so therefore provides better patient safety.
I have conducted many hands-on ultrasound workshops, creating awareness among younger generations and trained a large amount of neonatologists to learn the use of this excellent technology. This has all been possible with the support from Sonosite and their user-friendly, mobile and easy-to-use ultrasound systems.
POCUS Utility in COVID-19 Scenarios
There are only a few confirmed case reports of neonatal COVID-19 infection. With progressing time, however, delivering mothers with confirmed positive cases are increasing, resulting in more positive neonates being diagnosed. There is a need for neonatologists to be aware of myriad presentations an infected newborn may present. Point-of-care ultrasound provides a neonatologist with a much-needed tool in the armamentarium to diagnose and manage such neonates, who can present with multi-organ involvement.
Various studies highlight the importance of lung ultrasound in COVID-19 adult patients. Authors have shown how it may help to predict the progression of the disease. But not many studies have been done to highlight the role POCUS can have in positive symptomatic COVID-19 neonates. Infected COVID-19 neonates may present with fleeting consolidation and collapse opacities during the illness. They may also show B-lines, coalescence of B-lines, pleural shedding signs and hepatization with air bronchogram in ultrasonography. 
Lung ultrasound may help to follow these babies for the progression and thus prevent them from unnecessary radiation exposure through repeated chest X-rays. In our personal experience, a serious COVID-19 neonate has also presented with severe pulmonary hypertension and may have ventricular dysfunction. These babies required pulmonary vasodilatation and inotropes to mitigate their high-oxygen requirement and hemodynamic instability. Functional echocardiography helps diagnose the same in view of the sick condition of some of these babies, and many times they require umbilical catheters, peripherally-inserted central catheters, and endotracheal intubation. 
All of these advantages make point-of-care ultrasound guidance indispensable in the care of these babies. There is a need to expand the use of this modality to help reap the maximum benefits from this portable, safe, bedside evaluation technique.