August 22, 2019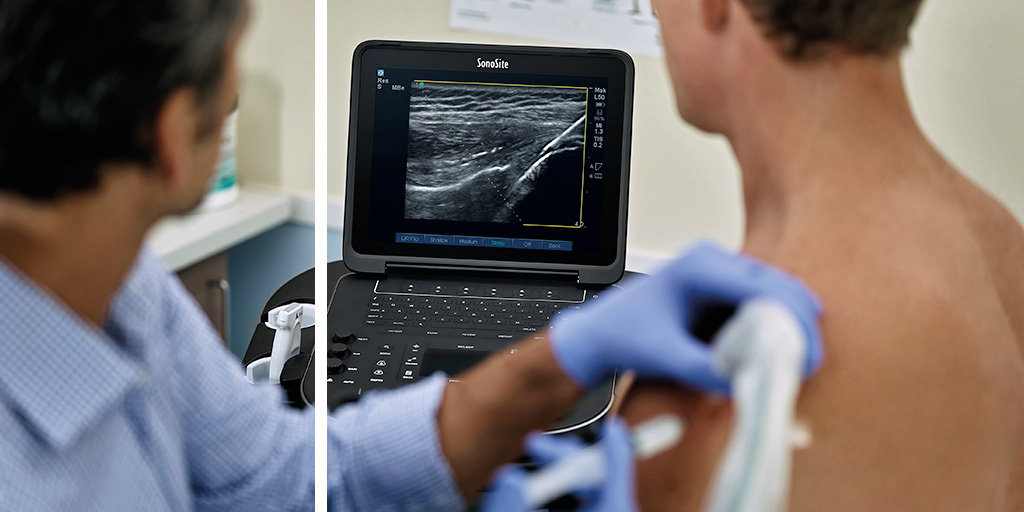 In a July 2019 article published in HealthManagement.org, Dr. Francois Louw M.D., clinical assistant professor at the Bill Nelems Pain and Research Centre at the University of British Columbia, Okanagan, described an extensive list of strategies to reduce opioid use in chronic pain clinics. Dr. Louw advocates for ultrasound-guided injection therapies, which he says is a safer, more effective alternative to opioids for chronic pain. He describes recent studies and case histories from his work at the Bill Nelems Centre, where he collaborated with nine doctors who logged in more than 11,000 patients.
In a September 2018 study, Dr. Louw conducted a retrospective chart review of all new patients he had seen for chronic pain in the last 12 months. Of the 259 patients who met the study's criteria, 50 had been using opioids for a long time. Among these 50 patients, he documented a 40% decrease in their use of narcotics after receiving ultrasound-guided procedures at his clinic. The vast majority of the patients stated they received great pain relief and better functionality from ultrasound-guided therapies as compared to opioid therapies.
After five years of treating patients with ultrasound-guided procedures, Dr. Louw reports his patients have not experienced any significant complications beyond transient pain, inflammation at the injection site, and one case of joint infection, which was treated with antibiotics. Most of his patients report themselves as "satisfied" and "very satisfied" with their pain management treatments.
Pain Management Strategies
Dr. Louw listed six ultrasound-guided procedures that he has found effective in managing chronic pain.
Dextrose prolotherapy: A regenerative injection-based treatment for MSK pain. Hypertonic dextrose is the most commonly used prolotherapy solution, with evidence supporting its use for rotator cuff tendinopathy, lateral epicondylosis, plantar fasciopathy, and non-surgical sacroiliac pain. 
Corticosteroid injections for joint pain: Effective short-term improvement in pain and functionality for patients with osteoarthritis, rheumatoid arthritis, adhesive capsulitis, and rotator cuff disease.
Nerve block/hydrodissection: Relieves pain stemming from nerve injuries or entrapment, including carpal tunnel syndrome, tarsal tunnel syndrome (posterior tibial neuralgia), scar neuropathy, and compression neuropathic pain syndromes.   
Cervical sympathetic trunk block (or "stellate ganglion block"): Relieves sympathetically mediated neuropathic pain in the upper extremity.
Epidural injection:  Provides short-term pain relief for lumbar radiculopathy, spinal stenosis and coccydynia, and pelvic pain.
Viscosupplementation (hyaluronic acid): Relieves pain from osteoarthritis and other joint disorders and can improve the patient's functionality. 
Evidence of the Effectiveness of Ultrasound-Guided Therapies
A 2018 National Institutes of Health (NIH) litreature review entitled "Existing Evidence on Ultrasound-Guided Injections in Sports Medicine" showed that in the upper extremity, ultrasound-guided joint and soft-tissue injections were a more effective treatment than the traditional "landmark" injections at the glenohumeral joint, the subacromial space, the biceps tendon sheath, and the joints of the hand and wrist. The review also found that ultrasound-guided injections at the knee, ankle, and foot were effective.
Another NIH study that studied patients with hip osteoarthritis showed how ultrasound-guided viscosupplementation may reduce healthcare costs. After receiving an ultrasound-guided intra-articular hip joint injection with hyaluronic acid, the patients' consumption of nonsteroidal anti-inflammatory drugs (NSAIDs) decreased by 61% during 24 months of follow-up. The authors of the study suggest this could lead to a decrease in long-term healthcare costs due to fewer NSAID complications.
Two Success Stories
Dr. Louw emphasised the rapid benefits of ultrasound-guided injections. He cites two cases of where these injections proved beneficial.
In the first case, a 67-year old woman was suffering from Grade 4 osteoarthritis of her right shoulder. Long-term use of opioids and treatment by physical therapists did not relieve her pain. After one treatment with hyaluronic acid viscosupplementation (which also included 18mg of the corticosteroid triamcinolone), injected under ultrasound guidance with precision into the glenohumeral joint, she reduced her use of pain medications by 80%. She reported dramatic improvements in her range of motion and being able to sleep comfortably for the first time in five years.
In the second case, a 57-year-old woman reported extreme pain in her lower left leg, which was secondary to nerve injuries in her tibial and superficial peroneal nerves from a prior deep venous thrombosis. Despite years of chronic pain, she was determined to avoid opioids, fearing the risks of addiction. Her treatment consisted of left tibial nerve block/hydrodissection performed with 8ml of 0.1% lidocaine in a 5% dextrose (D5W) solution, and left foot dorsum superficial peroneal nerve block/hydrodissection, performed with 3ml of 1% lidocaine in D5W. Both injections were performed with POCUS guidance. The patient was also started on low-dose naltrexone, a medication that increases endogenous endorphins and inhibits microglial activation, which in turn suppresses NMDA activation in the brain and decreases pain. The woman reported immediate, long-lasting relief after these therapies, stating, "I have my life back. The pain in my foot hasn't come back, not even in the slightest, and while I still have a little pain in my calf, it's something I can live with."
More details about Dr. Francois Louw's findings and the full list of cited references can be found at the original article.