September 06, 2019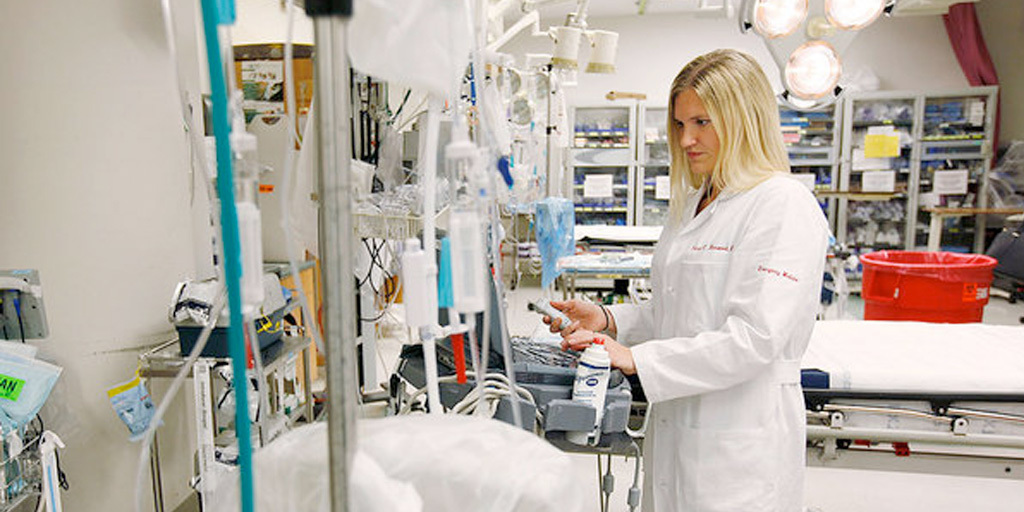 Emergency physician Dr. Trish Henwood, president and co-founder of the PURE Initiative, has been in the frontlines of the battle against Ebola since 2014, when she traveled to Liberia to confront an outbreak. Dr. Henwood recently wrote an article for The New England Journal of Medicine outlining the lessons she has learned since those extremely challenging days.
Dr. Henwood begins her article in the starkest terms: "Half my patients died. They died from one disease, but so many different deaths." From that sobering introduction, she explains how clinical appearance did not always predict an Ebola patient's chances for survival, and how ultrasound can play a key role in the evaluation a patient's condition.
During her first weeks at an Ebola treatment unit (ETU) in Liberia, Dr. Henwood admitted she was often "stumped" by the various manifestations of the disease. Patients who seemed to be on the road to recovery would suddenly get sick again and die.
To aid in diagnosis, Dr. Henwood acquired a point-of-care ultrasound machine for the mission. With the ultrasound machine, Dr. Henwood examined a patient she named "Mr. A," who at first seemed to be recovering, but then took a turn for the worse:
"The next morning, I found Mr. A. looking awful: febrile to 40 degrees, breathing 40 times a minute, and barely conscious. We started IV fluids, and I placed the ultrasound transducers on his chest. I found an A-line pattern with lung sliding, indicating no pulmonary edoema, no pneumonia, no pneumothorax. As I moved the probe to his boardlike abdomen, I was surprised to find diffusely dilated bowel loops with bowel-wall edoema and no peristalsis, without obvious signs of perforation. I considered ileus more likely than mechanical obstruction, particularly given that he had no relevant medical or surgical history. Days of profuse diarrhoea, followed by a paralytic ileus. Hiccups — from the ileus? Peritonitis and fever, possibly from bacterial translocation across his inflamed bowel wall. Central tachypnea from metabolic acidosis. Mr. A. was not just 'dying from Ebola.' He might be dying from bacterially mediated septic shock."
Sadly, Mr. A. did not survive. But Dr. Henwood did learn from other similar patients she scanned that secondary and concurrent bacterial infections played a more important role in Ebola-related deaths. Current data now shows the dangers of intestinal ileus, loss of mucosal integrity, and bacterial translocation in Ebola patients.1, 2 Treatment with broad-spectrum antibiotics is recommended in patients with severe Ebola symptoms.
Dr. Henwood listed six potential applications of POCUS in the Ebola treatment unit:
Obstetrical: POCUS can help confirm foetal viability or death, estimate gestational age, and evaluate reasons for bleeding in patients.
Pulmonary: POCUS may help distinguish between clear lungs (indicating possible centrally mediated tachypnea) and signs suggesting edoema, infection, haemorrhage, or acute respiratory distress syndrome.
Gastrointestinal: POCUS may help detect paralytic ileus with edoema, bowel distention, and lack of appropriate peristalsis. Dr. Henwood recommends using POCUS when the clinician suspects abdominal sources of secondary infection, including bacterial translocation across compromised bowel.
Hepatobiliary: Ultrasound may reveal hepatomegaly and abnormal hepatic architecture suggesting inflammation or infection. The presence of ascites may indicate hepatic dysfunction or a secondary bacterial infection.
Genitourinary: Ultrasound can help distinguish between anuria, obstruction, and acute or chronic kidney injury.
Cardiovascular: Cardiac ultrasound can be used to help confirm EVD-related myocarditis, pericarditis, or pericardial effusion.
In addition, Dr. Henwood pointed out that POCUS is particularly useful in resource-limited areas that lack other diagnostic imaging tools. Hand-carried ultrasound machines linked to Wi-Fi can send images to experts in another location to get expert assistance. Even in remote areas, Wi-Fi can be enabled with a portable modem.
Dr. Henwood concludes that POCUS is needed for the ongoing struggle against Ebola:
"As this outbreak unfortunately continues, it's important to focus on infection control, in addition to providing enhanced and compassionate patient care and conducting research to improve outcomes. A comprehensive approach incorporating ultrasound into ETU care may help tailor treatment to individual patients and improve our understanding of this grave disease."
Read Dr. Henwood's full report on POCUS applications for Ebola.
Previous Accounts of Dr. Trish Henwood's Work
Notes from the Front of the Ebola Fight in Africa
How Sonosite is Helping to Fight Ebola
Updates from the Ebola Fight in Liberia
References
1Carroll MW, Haldenby S, Rickett NY, et al. Deep sequencing of RNA from blood and oral swab samples reveals the presence of nucleic acid from a number of pathogens in patients with acute Ebola virus disease and is consistent with bacterial translocation across the gut. mSphere 2017;2(4):e00325-17-e00325-17.
2Kreuels B, Wichmann D, Emmerich P, et al. A case of severe Ebola virus infection complicated by gram-negative septicemia. N Engl J Med 2014;371:2394-2401.