November 15, 2019
Point-of-care ultrasound (POCUS) systems are becoming a common sight in nephrology departments and renal dialysis clinics, helping clinical staff to evaluate and effectively access the vasculature of dialysis patients. Dr. Jean-Yves Bosc, a nephrologist and vascular doctor working at the nonprofit private health establishment AIDER SANTÉ in the South of France, has been a champion of ultrasound for over a decade. He explained the benefits of this technology as part of the overall care package for patients with kidney disease.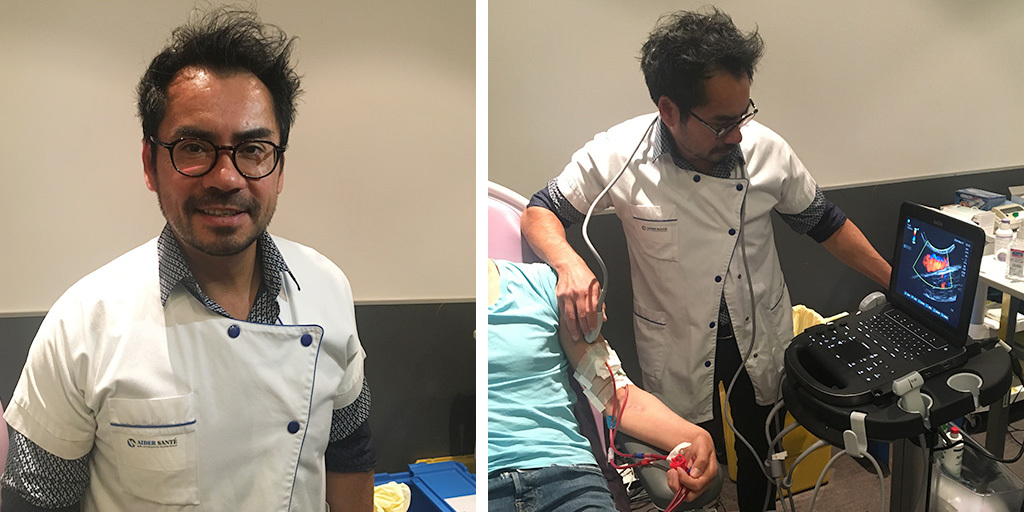 AIDER SANTÉ specializes in nephrology and renal replacement therapy by dialysis, and provides professional training across the Occitanie region. We operate 22 dialysis units located throughout Languedoc-Roussillon, providing education and dialysis services for over 1,000 patients. I have been interested in the use of ultrasound as an aid to the investigation and treatment of kidney disease since 1996, and have been promoting the use of POCUS in dialysis units for over 15 years. In the early days, Sonosite was the only brand offering truly portable instruments; the other options were much larger and computer-controlled, so they weren't ergonomic or robust enough to be practical. I have used the company's instruments ever since for bedside examinations and pre-anesthesia, as they are highly portable, very robust, and offer good image quality.

We currently have nine Sonosite systems—eight M-Turbos and an Edge II—within the foundation, plus I have my own personal M-Turbo system that I take everywhere with me. Ultrasound for nephrology has a variety of uses, but the main applications are concerned with safe and effective vascular access. Vascular access is a challenge for hemodialysis patients. It is necessary to routinely monitor the condition of dialysis fistulas and, if necessary, repair them surgically. Our clinicians perform ultrasound examinations of patients' fistulas on a regular basis, using the Doppler feature to check blood flow. Thanks to the compact design of the Sonosite systems, these examinations can be performed within the dialysis suite, without needing to move the patient.

The other main application of POCUS in our clinics is performing ultrasound-guided punctures, which can be invaluable for difficult cases. The ease of use of the Sonosite systems means that training new staff to carry out these ultrasound-guided punctures is very straightforward; nurses with no previous ultrasound experience can be competently working autonomously with one day of training. Acquiring a good image requires very few adjustments, and the systems are small enough to be positioned very close to the patient, making it easy to get a good view of the screen. All the systems offer a good balance between portability, robustness, and image quality, enhancing the level of care we can provide to our patients. This is particularly true in nephropediatrics, where bedside examination is less stressful for the kids.

We frequently use ultrasound during arteriovenous fistula creation or other vascular surgeries to get a good view of the vasculature, and it is also a useful training and educational tool for both staff and patients. For example, if we are training a patient to perform self-punctures for home dialysis, ultrasound provides a visual guide to aid needle placement; they can learn a lot very quickly this way. It is also particularly beneficial for fistula punctures on children under five. The small diameter of their blood vessels makes access more difficult, and multiple puncture attempts are particularly distressing for little ones. Ultrasound makes the whole process quicker and easier.

With so many potential uses at numerous sites across the region, portability, and robustness are key requirements for our ultrasound instruments, and the M-Turbo and Edge II systems are certainly reliable and easy to transport. These benefits influenced our choice of ultrasound systems.
Read More about Sonosite and Nephrology Applications
Ultrasound Guidance for Fistula Surgery in The Gambia
POCUS Profile: Dr. Jennifer Hanko (Nephrologist)
Reaching the Remote: Mind's Eye View