January 07, 2020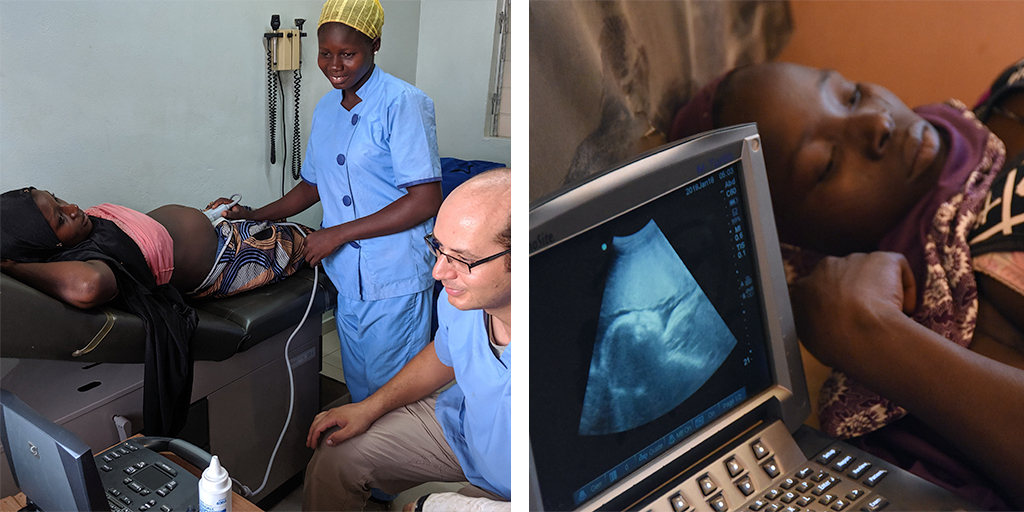 Emergency physician Dr. Steven Boutrus was kind enough to write this article for Fujifilm Sonosite about his use of ultrasound during a medical mission for Grace Dental and Medical Missions.
Boïffo is a rural village in the far north of Benin, West Africa. It is a farming village typical of this region, containing densely clustered, mud-walled houses in the village center, surrounded by several miles of farmland in every direction. There are no public utilities such as electricity or running water, and the only government presence is the village chief. The region is dotted with similar rural villages for dozens of miles in every direction, except the west, where less than five miles away is a national park where elephants, lions, and hippos still roam freely.
There is something, however, that sets Boïffo apart from the surrounding villages. The Evangelical Baptist Health Center of Boïffo has the only doctor and ultrasound machine within an hour's drive. I am an American board-certified emergency physician who moved to Boïffo in 2017 with my wife Katrina (a nurse) to help local Beninese healthcare agents open the only health center in the village, and to train them to care for the people of the region. Even the government's regional referral hospital in the city of Malanville sends their patients to Boïffo for various ultrasound and X-ray exams. Patients travel by foot, bicycle, motorcycle, and taxi from all directions to receive medical care and medical imaging services here. Our Sonosite M-Turbo is by far the most commonly used piece of medical imaging equipment in Boïffo, improving the quality of care of many of our patients on a daily basis. 
One of these patients is Esta, a young woman who lives with her husband and children in the nearby village of Guéné. Early one morning, she arrived at the health center with lower abdominal pain and vaginal bleeding, saying she was four months pregnant. As malaria is the most common cause of abdominal pain and miscarriage here, our staff performed a malaria test, which came back positive, and so began malaria treatment. However, this young woman seemed to be sicker than the average malaria victim, so I was asked to evaluate her. 
I immediately noticed that her blood pressure was a bit lower than normal, but her abdominal exam did not give any clear answers. "Let's see if she's having a miscarriage," I said in French, as I brought the Sonosite M-Turbo machine to her bedside. I saw the cause of her symptoms on the ultrasound screen. The uterus was empty, and the abdomen was filling with blood. I immediately recognized this as a ruptured ectopic pregnancy, a life-threatening emergency which causes uncontrollable bleeding in the abdomen and requires immediate surgery.
I remember well the difficult task of explaining to this young woman and her family that she had something more serious than her malaria, and that the ultrasound clearly showed that she needed emergency surgery to save her life. I am thankful to report that they consented and the surgery went well, and she is now back at home with her family in good health. It was the ultrasound that helped us to avoid becoming overly focused on her malaria and missing the true emergency causing her symptoms.
Steven Boutrus, MD
While FUJIFILM Sonosite, Inc. supports the improvement of health care in the global community, we do not officially endorse any of the charities and organizations that are mentioned or linked to on our Global Health page.