November 01, 2019
Dr. Martin Kelly is an attending physician in the Emergency Medicine Residency Program at Darnall Army Medical Center, Fort Hood, Texas. He has been involved in mission trips for 15 years, most of them in conjunction with Maranatha Volunteers International located in Sacramento, California. Dr. Kelly was kind enough to write a report about this nonprofit and its collaboration with Sonosite.
Maranatha Volunteers International is a non-profit Christian organization with the primary focus of organizing volunteers to build churches and schools in developing nations. They sponsor many short-term mission trips throughout the year.
Their annual trip is called Ultimate Workout (UW). UW welcomes high school-aged youth to participate in a service project. The teens live in simple conditions, usually camping in tents and taking cold showers after raising money to pay for the trip. The goal is for teens to focus intensely on the act of service and the healthy development of their emotional and spiritual selves.  
This year's Ultimate Workout (UW-29, the 29th year) took place in northeastern Kenya, where a team of 110 people, including 67 high school-aged students from the U.S., Canada, Belgium, Cote'd Ivoire, India, and Peru traveled to Meru County, Kenya. The volunteers constructed a classroom and a dormitory on a school campus. In addition, outreach activities were organized, including the medical clinics. This year's medical team consisted of 16 medical professionals, with 14 high school participants interested in the medical field. Nearly 1,000 patients were served during this July trip. 
On several of these trips, some of the medical professionals are emergency medicine residents and nurses from the U.S. Army, providing good training for Army residents who will someday serve in austere conditions. Sonosite is very important for their training as their devices are used extensively in the residency. This mission gives the residents the opportunity to see the many uses of the M-Turbo in very remote settings. In addition, the mission lets the residents teach and interact with the youth.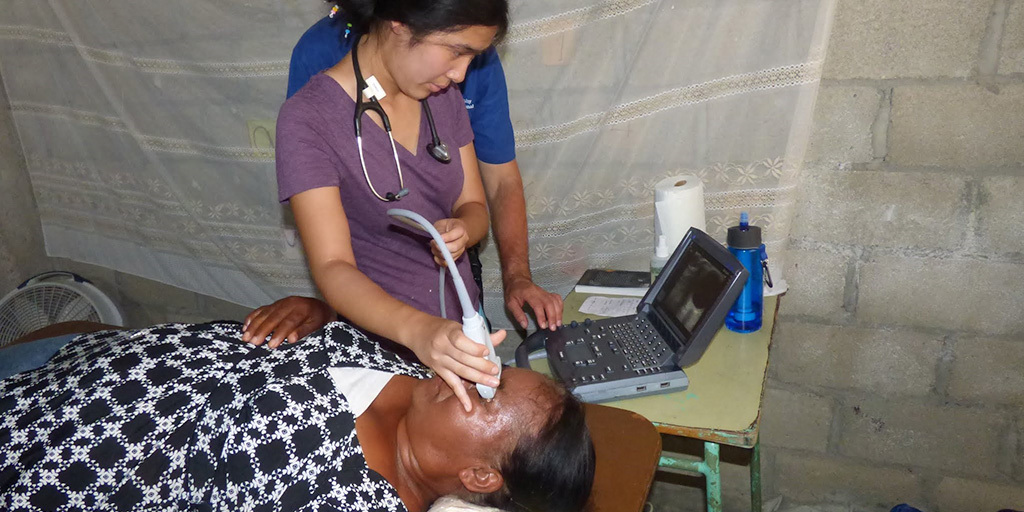 Medical care is very limited in this part of Kenya due to both geographic and financial reasons. We distributed free medicines and health education. The M-Turbo was in constant use evaluating pregnant women, abdominal pain, soft tissue masses, and other complaints. Under close supervision, the high school participants had a chance for a hands-on experience with ultrasound. The wonder and amazement of the high schoolers seeing a baby and its heartbeat in the womb was priceless. It was matched only by the joy the youth found in serving others. Sabrina, a participant from Belgium, wrote: 
"The expectant mom was very happy to get the opportunity to see her child and hear the heartbeat. It was nice to be able to tell her that her baby was healthy, and it is a special experience that I will remember." 
The impact on the high school students has been immeasurable. Many of the previous high school participants are now in the medical field or training for the medical field.
I want to give a sincere thanks to Sonosite for arranging for the M-Turbo to be used on these trips. Fujifilm has had an enormous impact on the lives of many people. Thank you Sonosite for your years of generosity and supplying the M-Turbo. You have contributed to the training of many Army emergency medicine residents, future health care professionals, and made the world a better place.
While FUJIFILM Sonosite, Inc. supports the improvement of healthcare in the global community, we do not officially endorse any of the charities and organizations that are mentioned or linked to on our Global Health page.
Learn More about Sonosite and Military Medicine
It's Worth a Million Bucks - Military Medicine
Field Medicine: Military Medicine and Sonosite Ultrasound
Supporting Homeless Veterans with Sonosite iViz Portable Ultrasound