November 05, 2019
Emergency physician Dr. Elijah Katz has worked with Sonosite ultrasound machines for several clinical and teaching missions around the world. Point-of-care ultrasound (POCUS) is a large part of Dr. Katz's practice both at home and abroad, and he currently serves as a Fellow in Combined Clinical Ultrasound and Global Health in the Department of Emergency Medicine at University of Texas, San Antonio. His most recent medical trip was the 2019 ¡Vamos Guatemala! mission, a biannual project with the Long School of Medicine at UT San Antonio. Dr. Katz was one of four supervising doctors from UT San Antonio.
The mission of ¡Vamos Guatemala! is to provide direct patient care to underserved communities in rural Guatemala. The mission is affiliated with a governmental health outpost, and worked alongside a local doctor. For the summer 2019 trip, ¡Vamos Guatemala! traveled to the community of Cantel, outside of Quetzaltenango in the western mountainous region. This summer's trip was the first time the mission had access to ultrasound with the addition of a Sonosite M-Turbo.
Over the five days in clinic at Cantel, Dr. Katz logged nearly 30 scans. The most common modality was gallbladder scanning, and other scans included bedside echocardiography, basic obstetric scanning, and ocular ultrasound. Dr. Katz described his most compelling case, a patient diagnosed with acute cholecystitis:
"A patient arrived with approximately 3-4 days of abdominal pain and had subjectively started to feel feverish over the past day. A bedside scan with the M-Turbo revealed a thickened gallbladder wall with pericholecystic fluid, a dilated common bile duct, and stones. We were able to refer the patient for emergent transfer to the nearest hospital with surgical capability, approximately 45-60 minutes travel by car to Quetzaltenango."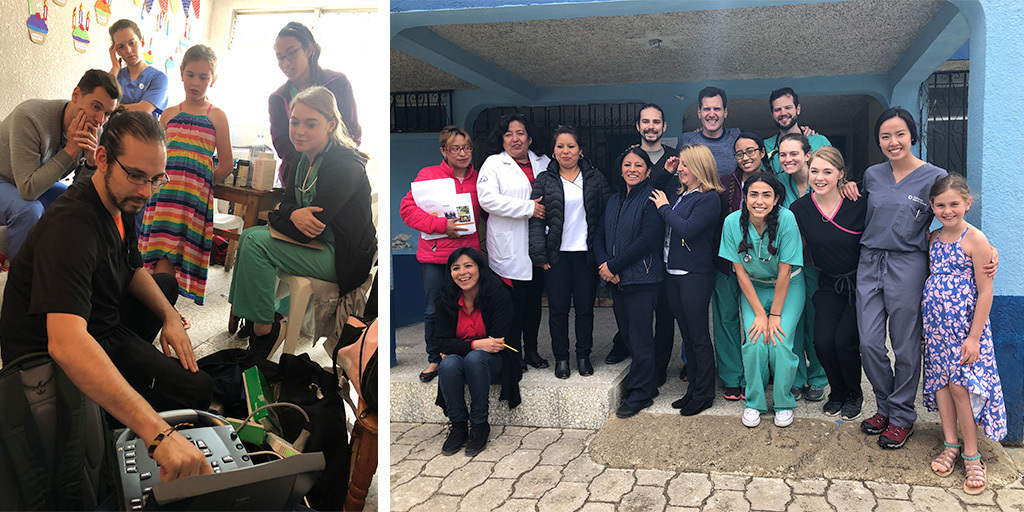 Dr. Katz was also able to use the M-Turbo to help diagnose an ocular condition, as he explains:
"Another case was a patient with 7-8 months of decreased vision, stating this had begun after a recent pregnancy. Glucose testing revealed a new diagnosis of diabetes, and ocular ultrasound revealed posterior vitreous detachment and hemorrhage with proliferative diabetic retinopathy. With this diagnosis, we were able to make an appropriate referral to an ophthalmologist, as well as starting the patient on appropriate treatment for her diabetes."
Dr. Katz feels the presence of the M-Turbo definitely dramatically enhanced his mission's capabilities.
"I can unequivocally say that, this being my third time going on the Guatemala mission, and the first having an ultrasound, it absolutely revolutionized the level of care we were able to provide. Many of the scans that I performed were for chronic or subacute abdominal pain suspicious for biliary colic. In a high prevalence area like that, being able to rapidly use the ultrasound to guide referral and anticipatory guidance, and in one case, make an emergent surgical diagnosis, was indispensable. I am a real believer in the technology of ultrasound and point of care ultrasound's utility in resource limited settings."
More Stories of the M-Turbo at Work
Sonosite M-Turbo Gets Plenty of Work in Vanuatu: Part One
Sonosite M-Turbo Fights Varicose Veins in Honduras
Sonosite M-Turbo Heads to Fiji on a Successful Medical Mission