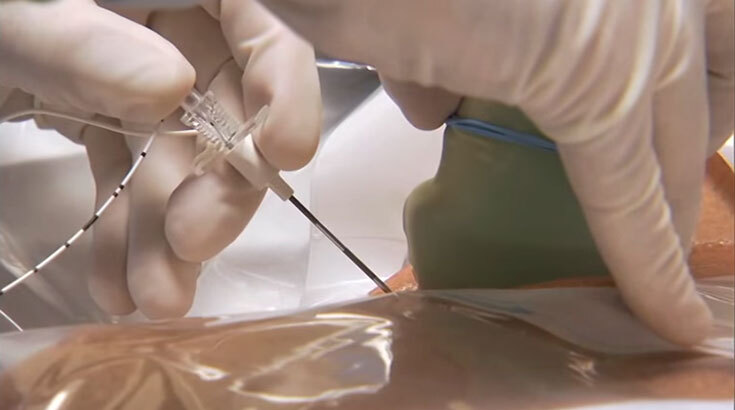 Anesthesiologists and nurse anesthetists are increasingly using ultrasound-guided needle placement to improve operating efficiency while decreasing placement complications and patient discomfort. Medical research supports the use of ultrasound in anesthesia-related needled placements. 
How does ultrasound help guide needle placement?
Simply put, seeing is believing. Ultrasound-guided injections have a greater chance of hitting the mark because practitioners can visualize the needle placement in real-time.
Better needle visualization increases efficiency during procedures such as: 
steep angle injections
nerve blocks (upper extremity blocks, neuraxial blocks, femoral nerve blocks, brachial plexus blocks, regional pain blocks)
epidurals
Anesthesiologists who utilize ultrasound guidance for needle placement see a decrease in vascular puncture and an increase in the effectiveness of pain management medications.
What proof is there that ultrasound helps anesthetists?
A growing body of medical research supports the use of ultrasound guidance for regional anesthesia. For example, with ultrasound guidance compared to peripheral nerve stimulation, there was shown to be a significant decrease in the risk of vascular puncture (risk ratio of .16); an increase in the nerve block duration by 25%; and a 29% faster onset time1.
A study published in the June 2013 Academic Emergency Medicine (AEM) Journal reported that, for older adults in the ED suffering from hip fracture-related pain (over the course of 4 hours), ultrasound-guided three-in-one femoral nerve blocks significantly reduced both pain intensity and the amount of rescue analgesia needed when used as an adjunct to standard treatment with parenteral opioids. The same study also found that standard parenteral opioid-only pain management offered ineffective pain control in the study cohort of patients with severe pain from hip fractures2.
What ultrasound systems are used by anesthesiologists?
The following list of SonoSite ultrasound machines are often used by anesthesiology departments.
Engineered specifically for anesthesiologists and busy operating rooms, the SII can be mounted on a wall, ceiling, or stand for dependable accessibility. Its lean, simplified controls are designed for single-hand operation, and its visualization quality aids imaging confidence. Along with SonoSite's outstanding customer service, clinical support, and ongoing education, the SII adds up to total access.
A favorite across a wide spectrum of medical specialties, M-Turbo delivers striking image quality with sharp contrast resolution and clear tissue delineation.
SonoSite's top-of-the-line hand-carried system features advanced visualization algorithms, largest display screen, splash-resistant silicone keyboard, and a solid aluminum core.
One option SonoSite offers that helps to assure the accuracy of ultrasound-guided injections is Advanced Needle Visualization (ANV). This propriety algorithm improves needle reflectance and contributes to needle visibility during steep angle approaches for deep targets. ANV uses a dedicated signal path with highly steered ultrasound beams and patent-pending algorithms that automatically identify and extract the needle information from that of surrounding tissue.
AxoTrack Needle Guidance Technology
This "point-and-shoot" option combines ultrasound with advanced magnetics to provide real-time information about the needle-tip location during placement of central lines. Engineered for ease of use and control, AxoTrack is a two-part system comprised of a specially designed ultrasound transducer and a single-use sterile procedure kit (compatible with select SonoSite systems, including S Series and M-Turbo.)
Triple Transducer Connect (TTC)
This highly practical module allows the connection of up to three transducers simultaneously. Anesthesiologists can fluidly switch from one transducer to another and go from superficial to deep procedures at the push of a button. (Compatible with select SonoSite systems, including Edge, M-Turbo, and the S Series.)
What our customers say
"Whenever we purchase new equipment, it is important that it is as future-proof as possible. With the X-Porte, not only is the hardware fantastic, but the platform is heavily software-based, and therefore dynamic." Read More
Dr. Justin Kirk-Bayley
"When you have different operators, with varied ultrasound backgrounds, ease of use is very important." Read More
Dr. Ulf Großmann
---
1Abrahams MS, Aziz MF, et al. Ultrasound guidance compared with electrical neurostimulation for peripheral nerve block: a systematic review and meta-analysis of randomized controlled trials. Br J Anaesth. 2009;102(3):408-17.
2Beaudoin FL, Haran JP, et al. A comparison of ultrasound-guided three-in-one femoral nerve block versus parenteral opioids alone for analgesia in emergency department patients. Acad Emerg Med. 2013 Jun ;20(6):584-91. doi: 10.1111/acem.12154.