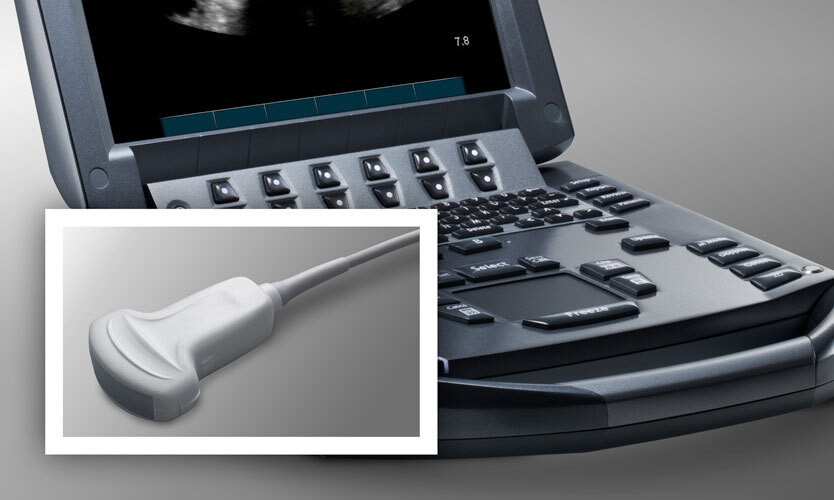 Package includes 1 transducer. Please choose one. Additional transducers are available below. High Resolution Imaging Across the Point of Care Our most versatile system for abdominal, nerve, vascular, cardiac, venous access, pelvic, and superficial imaging. The M-Turbo® ultrasound system gives you striking image quality with sharp contrast resolution and clear tissue delineation. This ultrasound equipment lets you visualize detail, improving your ability to differentiate structures, vessels and pathology.
Color Application Software Package This package provides the following capabilities for the transducers that support these features: - Tissue Harmonic Imaging (THI), a capability in which the system transmits at one frequency and receives at a higher harmonic frequency to reduce noise and clutter and improve resolution. - SonoHD Imaging Technology, technology which significantly reduces speckle noise while enhancing tissue margins, thereby dramatically improving contrast and structural resolution. - Velocity color flow imaging provides the clinician with the color sensitivity to perform color Doppler examinations with all transducers during a clinical procedure. - PW Doppler is available on all transducers. - CW Doppler is a quantitative assessment of blood flow with Duplex imaging for higher flow velocities. - CW is only available in cardiac.
SonoMBe Proprietary software that enhances the system's ability to aid needle visualization. Note: Requires an HFL50, HFL38, C60, or L25x.
TCD Imaging The TCD feature package includes a comprehensive set of tools used by neurologists or stroke specialists. Provides two TCD exam types on the P21x transducer for imaging both trans-temporally and trans-orbitally.
Advanced OB/GYN Calculations Advanced calculation package for obstetric and gynecologic imaging applications offers growth tables, graphs (including previous exam), twins, OB checklist, user defined measurements and tables, OB doppler, umbilical cord and MCA. A full range of Obstetrical and Gynecological calculations is available on the appropriate transducers.
ACO Technology Automated Cardiac Output enables the clinician to rapidly assess quantitative cardiac output information and eliminate the need to manually navigate through complex measurement packages.
DICOM Bundle The DICOM complete package includes the capability to interface with your PACS network with the complete offering of DICOM Print, Store, Worklist, storage commit, and modality perform procedure step.
Mini-dock for M-Turbo Provides connectivity for M-Turbo system when system is out of MDS m with connections to external printer and/or monitors, USB 2.0 port, USB or Ethernet connection to SiteLink Image Manager, Ethernet connection, S-Video connection and Digital Video Interface (DVI) connection. Complete with power supply.