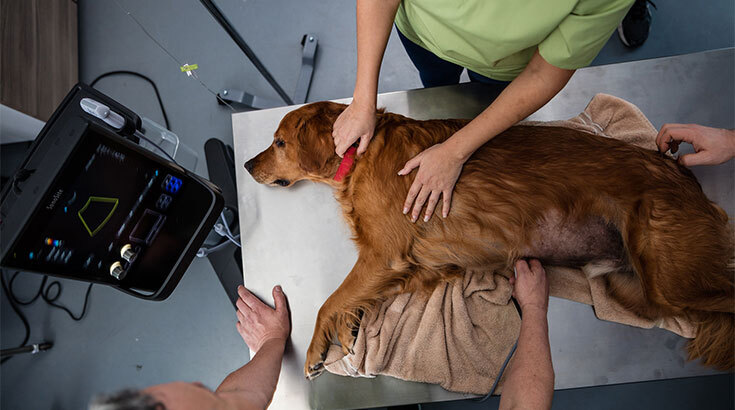 Bringing Simplicity and Peace of Mind to Veterinary Medicine
A veterinarian's day can be unpredictable and so are their patients, so you need an ultrasound where you need it and when you need it. Initially developed for the military, SonoSite portable and kiosk-based systems offer industry-leading...
Portablity – SonoSite's hand-carried ultrasounds are under ten pounds.
Ease of Use – Sometimes no buttons are necessary at all—turn it on and you are ready to image within seconds.
Reliablity – With the five-year warranty behind new SonoSite products you have peace of mind that your ultrasound will perform when you need it.
Durability – Drop tested at 3 feet, SonoSite ensures your investment for the long term.
5-Year Warranty – Get the only five-year standard warranty in the ultrasound industry. Learn more.
Discover the most dependable and durable veterinary ultrasound systems for equine, large animal, small animal, zoo mammal, and marine mammal medicine.
We take the guesswork out of imaging with a great diagnostic image that is easy to obtain. We also provide first-class support after the sale with our industry leading five-year warranty. With thousands of systems installed worldwide, SonoSite combines simplicity with peace of mind.
Our customized line of transducers can support a wide range of specific clinical exams for your equine athlete, companion animal, or zoo and marine mammals. And these probes are tested tough, offering durability without sacrificing the high-resolution imaging you'd expect from cart-based systems.
Industry-leading Veterinary Equipment from SonoSite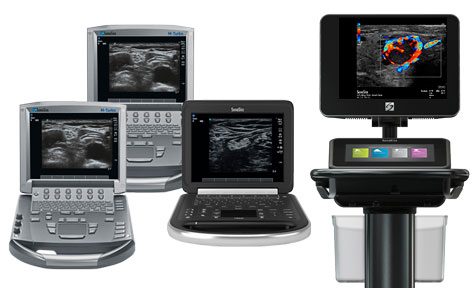 Edge Vet, M-Turbo® (c), X-Porte Vet
To talk to a representative, please complete the form below or call us at 877-560-0978.
L52x
Obstectrics, Chest/lung exam, Transrectal Examination of Sacroiliac Joints & LumboSacral nerve roots
Bandwidth: 10-5 MHz
Scan Depth: 15 cm
Needle Visualization Compatible: N/A
Biopsy Guide Compatible: N/A

---
C60x, xp
Abdomen, Transabdominal Preg Check, MSK imaging of the SacroIliac, Thoracolumbar Spine, Cervical Spine, Imaging insertion of DDFT on P3 and Impar ligament through the foot
Bandwidth: 5-2 MHz
Scan Depth: 30 cm
Needle Visualization Compatible: Yes
Biopsy Guide Compatible: Yes

---
HFL50x, xp
Distal Limb Imaging including: Stifle, Proximal Suspensory Origin, SDFT, DDFT, Collateral Ligaments, Pastern and Fetlock
Bandwidth: 15-6 MHz
Scan Depth: 6 cm
Needle Visualization Compatible: Yes
Biopsy Guide Compatible: Yes

---
C11x, xp
DDFT insertion through Heel Bulbs, Cervical Spine
Bandwidth: 8-5 MHz
Scan Depth: 10 cm
Needle Visualization Compatible: N/A
Biopsy Guide Compatible: N/A

---
HFL38x, xp
Distal Limb including: Stifle, Proximal Suspensory Origin, SDFT, DDFT, Collateral Ligaments, Pastern and Fetlock
Bandwidth: 13-6 MHz
Scan Depth: 6 cm
Needle Visualization Compatible: Yes
Biopsy Guide Compatible: Yes
---
L25x, xp
Distal Limb including: Stifle, Proximal Suspensory Origin, SDFT, DDFT, Collateral Ligaments, Pastern and Fetlock.
Bandwidth: 13-6 MHz
Scan Depth: 6 cm
Needle Visualization Compatible: Yes
Biopsy Guide Compatible: Yes

---
C35xp
Equine MSK, cervical spine DDFT insertion on to Distal Phalynx
Bandwidth: 8-3 MHz
Scan Depth: 16 cm
Needle Visualization Compatible: N/A
Biopsy Guide Compatible: N/A

---
P21x, xp
Large Animal Cardiac, General Abdominal
Bandwidth: 5-1 MHz
Scan Depth: 35 cm
Needle Visualization Compatible: N/A
Biopsy Guide Compatible: N/A

---
P10x, xp
Small Animal Cardiac, General Abdominal
Bandwidth: 8-4 MHz
Scan Depth: 14 cm
Needle Visualization Compatible: N/A
Biopsy Guide Compatible: N/A

---
L38x, xp
SDFT, DDFT, Check Suspensory
Bandwidth: 10-5 MHz
Scan Depth: 9 cm
Needle Visualization Compatible: Yes
Biopsy Guide Compatible: Yes

---
L38x, xp
SDFT, DDFT, Check Suspensory
Bandwidth: 10-5 MHz
Scan Depth: 9 cm
Needle Visualization Compatible: Yes
Biopsy Guide Compatible: Yes

---
x = Transducers available on Edge and M-Turbo
xp = Transducers available on X-Porte
Standoffs = Available at www.veterinarysales.net
C11x, xp
Suspected Abdominal Effusion, General Abdominal Mass, Cranial Organomegaly, Caudal Mass, Cardiac, Pregnancy, Splenomegaly, Abdnormal Kidneys, Cystocentisis
Bandwidth: 8-5 MHz
Scan Depth: 10 cm
Needle Visualization Compatible: N/A
Biopsy Guide Compatible: N/A

---
HFL38x, xp
Small Animal/Feline - Suspected Abdominal Effusion, General Abdominal Mass, Cranial Organomegaly, Caudal Mass, Splenomegaly, Abdnormal Kidneys, Cystocentisis, Musculoskeletal
Bandwidth: 13-6 MHz
Scan Depth: 6 cm
Needle Visualization Compatible: Yes
Biopsy Guide Compatible: Yes
---
L25x, xp
Small Animal/Feline - Suspected Abdominal Effusion, General Abdominal Mass, Cranial Organomegaly, Caudal Mass, Splenomegaly, Abdnormal Kidneys, Cystocentisis, Musculoskeletal
Bandwidth: 13-6 MHz
Scan Depth: 6 cm
Needle Visualization Compatible: Yes
Biopsy Guide Compatible: Yes

---
C35xp
Suspected Abdominal Effusion, General Abdominal Mass, Cranial Organomegaly, Caudal Mass, Pregnancy, Splenomegaly, Abdnormal Kidneys, Cystocentisis
Bandwidth: 8-3 MHz
Scan Depth: 16 cm
Needle Visualization Compatible: N/A
Biopsy Guide Compatible: N/A

---
P10x, xp
Small Animal Cardiac
Bandwidth: 8-4 MHz
Scan Depth: 14 cm
Needle Visualization Compatible: N/A
Biopsy Guide Compatible: N/A

---
x = Transducers available on Edge and M-Turbo
xp = Transducers available on X-Porte
North America/Canada
SonoSite Direct
21919 SE 30th Drive
Bothell, WA 98022 USA
ffssveterinary@sonosite.com
Phone:1-877-560-0978
Europe and Asia Pacific
Australia
BCF Ultrasound
Chris Graham
Phone: 61-3-98948980
chris@bcfultrasound.com.au
Belgium
V-Trade
Francis Jaspar
Phone: +32 (81) 56 94 56
Fax: +32 (81) 56 92 32
francis@vtrade.be
Denmark
CMA Medico
Amtsvejen 105A, 3320 Skævinge, Danmark
Jesper Nielsen, Managing Director
Phone: +45 8710 1427
Fax: +45 4913 4370
www.cmamedico.dk
Finland
TOSFIN Ltd.
Jussi Santaniemi
Rajatorpantie 41C, FIN-01640 VANTAA, Suomi, Finland
Phone: +358 9 8520 2452
FAX: +358 9 8520 2460
www.tosfin.com
Greece
Nicos Papapostolou Ltd.
George Tsoutsoudakis
Phone: +30 210 6790 000
Fax: +30 210 6790 100
info@papapostolou.gr
Ireland
BCF Technology Ltd.
Gavin Mitchell
Phone: 44 1506 460023
Fax: 44 1506 460045
gavin.mitchell@bcftechnology.com
Luxembourg
V-Trade
Francis Jaspar
Phone: +32 (81) 56 94 56
Fax: +32 (81) 56 92 32
francis@vtrade.be
Netherlands
V-Trade
Francis Jaspar
Phone: +32 (81) 56 94 56
Fax: +32 (81) 56 92 32
francis@vtrade.be
New Zealand
BCF Ultrasound
Chris Graham
Phone: +64 3 357 9564 extn 1
chris@bcfultrasound.co.nz
Sweden
CMA Medico
Amtsvejen 105A, 3320 Skævinge, Danmark
Jesper Nielsen, Managing Director
Phone: +45 8710 1427
Fax: +45 4913 4370
www.cmamedico.dk
United Kingdom
BCF Technology Ltd.
Gavin Mitchell
Phone: 44 1506 460023
Fax: 44 1506 460045
gavin.mitchell@bcftechnology.com
South America and Brazil
FujiFilm SonoSite do Brasil
Rua Estado de Israel, 233 – São Paulo, SP, cep: 04022-000
Phone: 55 11 5574-7747
elza.venuto@sonosite.com