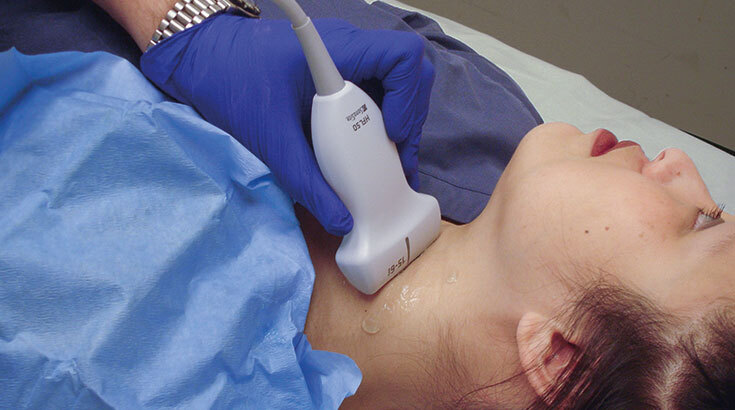 Cart or Wall Mounted for Efficient Exam Room Space
Ultrasound technology provides endocrinologists with tools that can increase diagnostic confidence, improve efficiency, and decrease complications.
Sonosite works closely with endocrinologists to develop customised solutions that meet their rapidly expanding clinical requirements. Our ultrasound systems have exceptional performance and reliability and incorporate a unique user interface that enables the focus to remain on the patient and procedure instead of the technology. We offer an industry-leading 5-year warranty, the lowest cost of ownership, and no annual service contracts.
SonoMB® multi-beam imaging
Many Sonosite ultrasound systems incorporate SonoMB® multi-beam imaging, which is a proprietary multi-beam technology from Sonosite that increases small structure resolution and enhances border delineation for improved visualisation of anatomy, including the thyroid. The result is increased resolution in the near and far field, finer definition of small structures, and improved visualisation of physiological and subtle tissue differences. This technology enables endocrinologists to improve needle visualisation, even when the needle angle is greater or less than 90º from the skin's surface, because it enhances border visualisation and increases contrast resolution.
Sonosite's ultrasound systems are highly portable and offer a variety of imaging solutions. Some systems can be cart or wall mounted, enabling endocrinologists to efficiently use their office and examination room space. Other Sonosite ultrasound systems, such as the Edge II ultrasound system, can be hand-carried easily to increase portability and usage versatility. Finally, some systems offer a kickstand, enabling them to reside on any existing flat surface in the office or exam room.
Sonosite Offers a Range of Customised Products That Provide:
Advanced imaging features for exceptional image quality with minimal key strokes
Fluid-resistant for easy cleaning and disinfection
Under 20 seconds from cold start to scanning
Custom use models for point of care applications
Built to exceed U.S. military specifications for durability
Industry leading 5-year warranty
Extensive training and education programmes