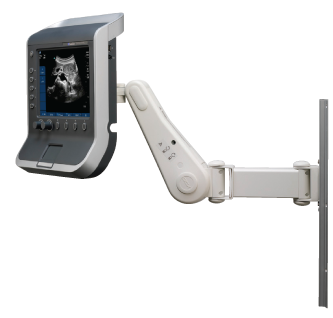 "Zero-Footprint Technology" Saves Space, Contributes to Efficiency
The S Series can be mounted on a wall, ceiling, or even an anesthesia machine for a zero-footprint solution that saves you space and time and ensures your ultrasound system is always where you left it.
"Zero Footprint"
Mounted system decreases clutter and enables more unrestricted movement in tight spaces.
More Patient Coverage
System arm accessory reaches patient from head to toe.
Expert Installation
Experienced third-party vendor installs system according to your space requirements.
State-of-the-art Sonosite ultrasound systems come standard with a
5-year warranty.
If you're tired of spending precious time trying to locate your ultrasound machine because someone else used it to place a line or, worse yet, it was left in someone else's department, then solve your problems now with Sonosite's S Series™ ultrasound system with "zero-footprint technology".
To learn more, call us at 877-299-1788 or use this form, and we'll respond promptly.
Take advantage of the many educational and clinical resources that Sonosite offers anesthesiologists and other medical professionals interested in point-of-care ultrasound, including a quarterly newsletter.