Expand your medical resources further with quality ultrasound at a practical price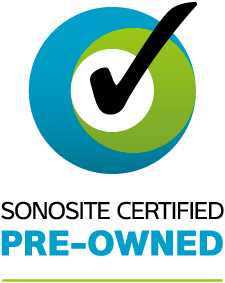 Fujifilm Sonosite systems are designed to be reliable, durable and user friendly. It is these qualities that have made Sonosite the undisputed global leader in point-of-care ultrasound.
Certified Pre-owned by Sonosite offers a practical alternative to buying a new system.
All Certified Pre-owned systems and transducers are backed by a one-year manufacturer's warranty and must pass a 10-point inspection before leaving our facility.
Sonosite's 10-point inspection

Sonosite Certified Pre-owned

Unauthorized Distributor

1. System History Audit

 

We begin by reviewing the full history of each ultrasound system, from the original Sonosite manufacturing records to any service information. Systems and transducers that aren't in excellent condition are rejected.

2. Internal Hardware Diagnostics

 

Each system undergoes embedded diagnostics tests to confirm the integrity of the internal hardware, and to identify any repairs needed.

3. Software Patches and Upgrades

 

We update the software package on each Certified Pre-owned system, so you have all of the latest software and features available on your Sonosite ultrasound machine.

4. PCBA Upgrades

 

Each printed circuit board assembly is inspected and tested using internal hardware diagnostics. If any issues are found, we upgrade the hardware configuration to optimize performance.

5. Hardware Upgrades

 

All systems are meticulously disassembled and inspected. Standard wear items, such as hinges and select cables, are replaced. In addition, all mechanical hardware is evaluated and, if necessary, replaced.

6. Comprehensive Visual Inspection

 

Each machine is visually evaluated to assess interior and exterior surfaces. We want your system performing and appearing, like a new machine.

7. Full Factory Tests

 

Each Certified Pre-owned ultrasound system must pass a complete multi-point functional test against current factory test limits, just like our new products.

8. Live Scan

 

All imaging modes and included transducers are tested by Sonosite sonographers, to ensure that image quality and system performance meet all clinical standards.

9. Outgoing Quality Audit

 

In addition to testing your machine, Sonosite reviews all of your system accessories, such as batteries, power supplies, and docks, to ensure that you receive a fully operational, premium point-of-care ultrasound system.

10. Certification

 

Only systems that pass every functional test are certified by a Sonosite ultrasound technician and shipped to a waiting customer.